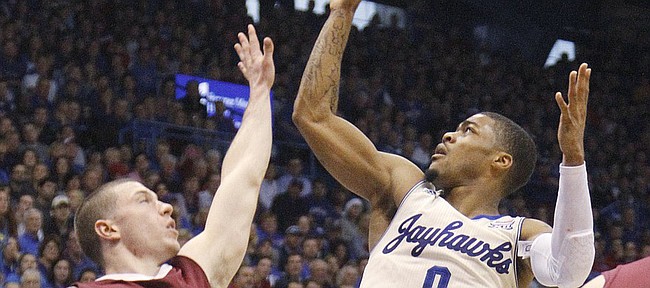 Photo Gallery
Kansas basketball v. Lafayette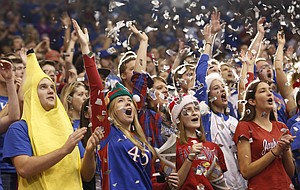 Images from Saturdays game between the Jayhawks and Leopards at Allen Fieldhouse
Podcast episode
Kansas University basketball coach Bill Self answers questions following his team's easy win over Lafayette. The coach discusses changes to two of the team's five starters for the game, as well as the standout performances of Kelly Oubre Jr. and Hunter Mickelson.
Podcast episode
Kansas University basketball players Kelly Oubre Jr., Frank Mason III and Hunter Mickelson meet with media members after contributing to a blowout victory agains Lafayette on Saturday at Allen Fieldhouse.
KANSAS 96, LAFAYETTE 69
Kansas University's basketball team is loaded with high skilled athletes, including four McDonald's All-Americans, but even all that talent wouldn't have much of a shot at jelling if not for the sophomore guard who originally committed to Towson and at the time of his choosing Kansas was ranked by Rivals 131st in his class.
On a day Kelly Oubre Jr. played his best game in college, Hunter Mickelson his best in a Kansas uniform and Jamari Traylor continued his upswing, sophomore point guard Frank Mason III again was the best player on the floor for either side.
Kansas, with all its depth, could absorb the loss of any other player. Mason goes down and nobody, as long as Devonté Graham is out with a severe big-toe injury, has a shot at bringing to the team what Mason does.
Mason's remarkable leaping ability, strength and quickness were evident during his freshman season, but he played on the wild side. Now he controls games with an ever-improving blend of drives to the paint to dish and score, in-your-face defense, defensive rebounds snared above the rim in traffic, floaters and three-pointers that settle into the net with equal softness.
He has himself under control so well that he, more than anyone, is controlling the pace at which the game is played, and the direction the momentum arrow points.
He's playing with feel. Combine feel with a superior athlete and it's a beautiful thing to watch, especially when the gem adds a little more polish, sparkles a little brighter all the time.
The point guard, more than anybody, influences the statistics of teammates, so the most reflective stat of Mason's play in Saturday's game was a team total, the one that read 22 assists, five turnovers. Kansas shot 50 percent from the field, 52.2 percent from three, another pair of numbers on which Mason had a positive influence to varying degrees.
A fearless, 5-foot-11, 185-pound bundle of strength and quickness, explosiveness and flexibility, Mason isn't even one-third into his college basketball career and he's already this good.
Mason made 6 of 8 shots and 2 of 3 three-pointers in the 96-69 victory against Lafayette. He dished nine assists, had just one turnover, blocked a shot and picked up a steal.
"He was great," Kansas coach Bill Self said. "He was good not only because he made shots, but was also able to get the ball wherever he wanted to get it."
Mason didn't play much point guard before coming to Kansas, but he looked Saturday as if he were born to play it and had been doing it since birth. He's even talking like a point guard now.
"I try to come out and start the game by getting my teammates involved and creating easy shots for them," Mason said. "That's what I've been doing the past few days in practice, getting them involved."
Keep doing it.
Mason, who once scored 52 points in a high school game, is shooting so well opponents will need to stop losing sight of him on the perimeter or he'll keep burning them. Mason leads the team with a .522 three-point shooting percentage. He shot ..327 from beyond the arc last season. His shot looks better and he's taking better shots.
Any team wants its best free-throw shooter to be the guy who has the ball in his hands most often because he's the one who will get fouled most in late-game situations when protecting a lead. Mason leads the team with an .879 free-throw percentage.
"I think he is getting better all the time," Self said. "I thought he was terrific and totally controlled the game. When they made their run and we weren't really playing well, the only reason the game wasn't closer was because of Frank. Frank kept them at arm's length."
The best is yet to come from Mason.
"I wish he would get inside a little more," Self said. "I think he can get inside the defense at will and I don't think he does that nearly enough, but I think he is playing pretty smart on the offensive end."
And because of the smart things he does, everybody on the floor with him looks smarter.
---
More news and notes from Kansas vs. Lafayette
---
More like this story on KUsports.com