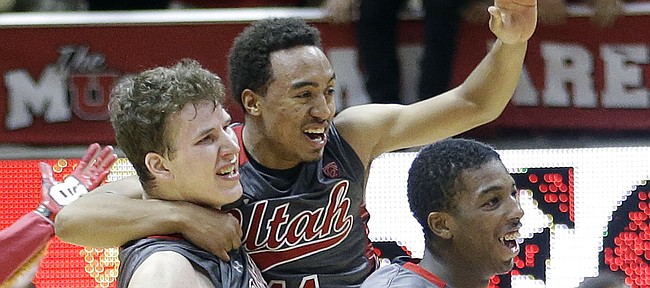 Kansas City, Mo. — Vienna, the largest city in Austria, is the home of the world's first psychoanalyst, Sigmund Freud, as well as musicians Mozart, Beethoven, Schubert, Brahms and Strauss.
The capital city is known for its sausage and Wiener Schnitzel, opera houses, museums and gardens.
Skier Franz Klammer and bodybuilder Arnold Schwarzenegger have emerged as the most famous athletes from Austria.
As far as basketball? The next hoops superstar will be the country's first.
A candidate for that honor, however, will be playing for No. 13-ranked Utah (7-1) in a 2:15 p.m. battle today against No. 10-ranked Kansas University (7-1) in Sprint Center.
He's Jakob Poeltl, a 7-foot, 235-pound freshman sensation from Vienna, who takes an 11.3-scoring, 9.3-rebound average into the clash between the Pac-12 and Big 12 schools.
Analyst Chad Ford of ESPN sees the 19-year-old Poeltl as a "potential top 10" pick in the 2015 NBA Draft.
"Vienna, Austria ... I've actually visited there. It's the most beautiful place I've ever been, but I didn't know there's a lot of great players coming from there. This cat is really good. I mean, he's good," KU coach Bill Self gushed of Poeltl (pronounced pur-tle).
Playing before 20 NBA scouts, the 72.3 percent shooter (only 44.9 from line) scored 12 points, grabbed 11 rebounds and had three blocks in a 69-68 overtime victory over Wichita State on Dec. 3 in Salt Lake City.
"He's got great feet, (and) he's big," Self added of Poeltl, who has a 7-foot-3 wingspan and mom and dad who both played for Austria's national volleyball teams.
"He changes and alters shots on the defensive end. He runs well and has great hands. He goes and gets our misses extremely well," Utah coach Larry Krystkowiak, a former NBA player and coach, told the Deseret News.
Poeltl, who is a buddy of 6-6 sophomore starter Kenneth Ogbe (7.1 ppg) of Germany, chose Utah over Arizona, Cal, Indiana, Marquette, Wake Forest, Davidson and others.
"He's doing so many things — he's running and changing shots and has a good set of hands and obviously has a knack for playing. And 7-footers are hard to come by. I wouldn't bet against him (in NBA)," Krystkowiak added,
"I try not to let it (NBA talk) get into my head,'' Poeltl told the Deseret News. "I want to try and finish this season first, and after the season's done I can think about my future. It is a possibility, but I haven't really thought too much about next year.''
Poeltl may be one of two current Utes in the NBA next season. Delon Wright, 6-5 senior returning first-team All-Pac 12 player, averages 15.4 points a game off 58.1 percent shooting. He averages 5.5 rebounds per contest and has dished 39 assists to 16 turnovers with 14 steals and 10 blocks.
"They've got a good guard," KU's Wayne Selden Jr. said Friday, hours before receiving the official scouting report.
"He's a pro," Self said.
Brandon Taylor, a 5-10 junior, averages 10.3 ppg. He has hit 14 of 39 threes (35.9 percent). Jordan Loveridge, who has averaged 11.5 points in four games, is out because of injury.
"I really believe this could be as tough a nonconference game we played other than obviously Kentucky," Self said.
The Utes have lost at San Diego State and beaten Ball State, UC Riverside, UTPA, North Dakota, Alabama State, Wichita State and BYU.
"It's a huge game for us because we're still trying to find out who we are," Selden said. "It's not really about them. We're trying to find out what we are and what we can hang our hat on."
Selden says the Jayhawks, who like Utah have won six in a row, are seeking improved offense.
"Teams don't really know what we're going to come out and do because we don't really know what we're going to come out and do sometimes," Selden said. "Our main thing is trying to get it inside and playing inside/out, but then we could have nights we shoot the ball really well."
The Jayhawks have been winning in spite of a rugged schedule.
"This year we're really having to buckle down because we have nowhere near the skill we had last year. Losing two of the top three draft picks, we don't have what we had last year. I think we're taking it more serious, and we're a tougher team than last year," Selden said.
Self certainly hopes KU can make it through yet another tough game on the slate.
"The hardest part of the schedule, not from a competitive standpoint, but number of games, preparation … it ends with Utah because that's a tough schedule," Self said. "You go Rhode Island, Tennessee, Michigan State, Florida, Georgetown, Utah, that's a rough schedule in a short amount of time (17 days). So at least now we can catch our breath over finals week (before playing Lafayette Dec. 20 and Temple Dec. 22). I kind of broke our nonconference the first half ending Saturday, the second half beginning next week."
Lineup change: Sophomore guard Brannen Greene, who hit five threes and scored 19 points in Wednesday's win at Georgetown, will start in place of Sviatoslav Mykhailiuk today, Self said. The other four starters — Frank Mason III, Selden, Perry Ellis and Landen Lucas — remain the same. "If he's open, I'm tallying it," Selden said of Greene from long distance.
Graham hobbled: Freshman Devonté Graham is "questionable at best" because of a sore toe, Self said. He said if Graham played, it'd likely be limited duty. Graham had the toe taped after hurting it with 10 minutes left against Georgetown. Originally it was thought he had a sprained ankle.
Traylor returns: Jamari Traylor, who served a one-game suspension following last weekend's arrest for interfering with the duties of an officer, will play today, Self said.
"He's obviously paid the penalty for making a poor decision on not cooperating on something he wasn't remotely involved in," Self said. "It brought a lot of negative attention on him. Certainly he's embarrassed by it. The only way you can handle this, like we've told him, is become a better man because of it and identify why that would happen. He's certainly working on that and open to doing that. I don't see any reason for penalizing him any more than what we've already done."
Cox hired: Former KU manager James Cox has taken over for Jeff Forbes as the program's video coordinator. Forbes has taken a job with Synergy, Self said.