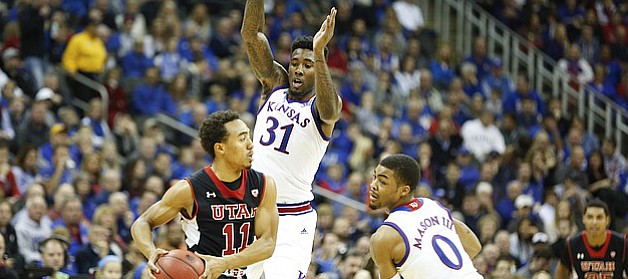 Photo Gallery
Kansas basketball v. Utah
Images from Saturday's game between the Jayhawks and the Leopards at Allen Fieldhouse.
Podcast episode
Kansas University men's basketball coach Bill Self couldn't believe that his team surrendered a 21-point lead against Utah before recovering to win 63-60 in Kansas City, Missouri. "We can screw up a good time about as well as anybody I've ever seen," Self said.
Podcast episode
Kansas University forwards Jamari Traylor and Perry Ellis discuss the No. 10 Jayhawks' 63-60 win over No. 13 Utah, which featured both a huge KU lead and a late Kansas recovery.
KANSAS 63, UTAH 60
Kansas City, Mo — Kansas University junior forward Jamari Traylor, who returned from a one-game suspension in KU's 63-60 win against Utah Saturday at Sprint Center, had 13 points and five boards in 26 minutes. He was five of five from the line.
"He got what he deserved," Jayhawks coach Bill Self said of sitting out following his arrest for interfering with duties of an officer at the scene of a fight. "On the flip side, he took a negative situation and didn't pout, handled it like he's supposed to handle it. I'm happy with 'Mari, proud of him. I thought he and Kelly Oubre (career high nine points) were two best players for us today no question."
Traylor said: "It's never good when you are in that position. I made a mistake, so I just wanted to come out and do better this time around. I wanted to impact the game the way I couldn't last time, that's pretty much it. I had a really good game. I'm looking past me being suspended. I'm getting ready for the next game (Saturday vs. Lafayette, 2 p.m., Allen Fieldhouse)."
This, that: KU extended its win streak to seven games, matching its longest streak of last season. ... KU is 8-1 for the second time in the last three seasons and the sixth time in Bill Self's 12 seasons. ... KU is 2-0 all-time vs. Utah. ... KU is 25-5 at Sprint Center and 210-79 in games played in Kansas City. ... KU's 63 points tied for the second-fewest points scored in Sprint Center. KU scored 60 points in a 61-60 loss to UMass on December 13, 2008, and scored 63 in a one-point victory over Oklahoma State in the Big 12 tournament on March 10, 2011. ... KU hit 60 percent of its first-half shots; 26.1 the second half. ... KU went 21-of-23 (91.3 percent) from the free-throw line, marking the squad's best percentage this year. Over the last three games, KU has made 73-87 from the line for 83.9 percent. ... KU set season lows in: field goal attempts (48), free throw attempts (23), total rebounds (28), offensive rebounds (7) and defensive rebounds (21). ... Utah's 21 first-half points were the fewest KU has allowed in an opening half since holding Texas Tech to 19 in the first half on March 5, 2014. ... KU went 10-10 from the line in the first half. It's the first time KU has been perfect in a half since going 10-10 in the first half against Oklahoma at home (1/14/08). ... KU went 8-8 from the line in the final five minutes. ... Greene is 13-of-13 from the line.
---
More news and notes from Kansas vs. Utah
---
More like this story on KUsports.com