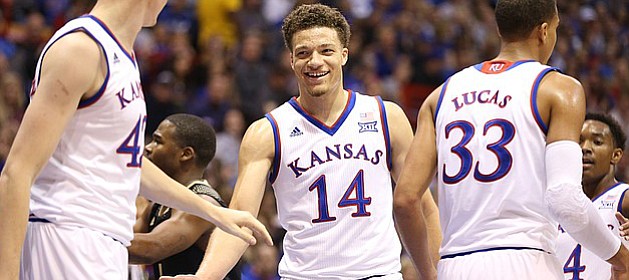 Kansas University men's basketball coach Bill Self said Friday, prior to KU's practice at Sprint Center, that sophomore guard Brannen Greene would start Saturday's game against Utah in place of Sviatoslav Mykhailiuk.
Greene led KU with 19 points on 5-of-5 shooting against Georgetown on Wednesday night in Washington D.C. and has shown more comfort within KU's offense and a ton of confidence during recent games.
Sophomore starter Wayne Selden said Friday that what Greene delivered earlier this week in the win over the Hoyas was exactly what the team expets from him every time out.
"Definitely," Selden said. "If he's open, I'm tallying it."
In other news, Self said forward Jamari Traylor would suit up and play against the Utes. Traylor, who was arrested last weekend for "interfering with the duties of an officer" during an altercation at the Cave nightclub in Lawrence, traveled with the team to D.C. but did not play as punishment for his off-the-field actions.
Self said Traylor was embarrassed about the incident and the two talked about what Traylor could learn from it.
"Jamari is going to suit and play. He's obviously paid the penalty for making a poor decision on not cooperating on something he wasn't remotely involved in," Self said. "It brought a lot of negative attention on him. Certainly he's embarrassed by it. The only way you can handle this, like we've told him is become a better man because of it and identify why that would happen. He's certainly working on that and open to doing that. I don't see any reason for penalizing him any more than what we've already done."
Freshman Devonté Graham is "questionable at best" because of a "sore toe," Self said. Graham hurt his toe, not his ankle, Wednesday against Georgetown and missed the final 10 minutes of the KU victory. It earlier had been believed he had an ankle injury. Self said if he plays it'll likely be limited duty.
Also, former KU manager James Cox takes over for Jeff Forbes as video coordinator. Forbes has taken a job with Synergy, Self said.
More like this story on KUsports.com