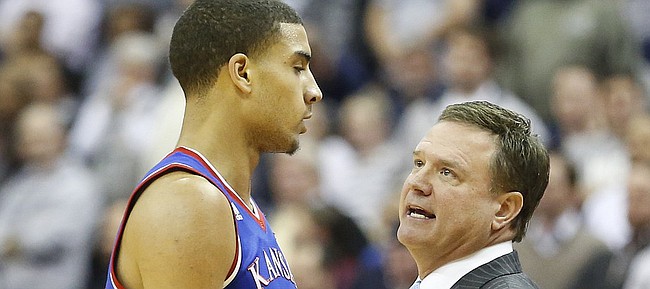 Photo Gallery
Kansas basketball v. Georgetown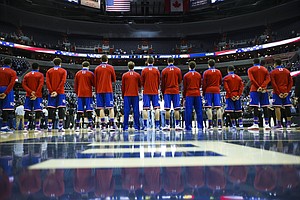 Images from the Jayhawks game against the Hoyas at Verizon Center in Washington D.C.
Podcast episode
Bill Self discusses 75-70 road victory vs. Georgetown.
Podcast episode
Brannen Greene and Kelly Oubre discuss victory at Georgetown.
KANSAS 75, GEORGETOWN 70
Washington, D.C. — Kansas University starting big man Landen Lucas had words with Georgetown's 6-10, 350-pound bigger man Joshua Smith after Lucas fouled out of the Jayhawks' win at Verizon Center.
"I've known him since high school. He's from Seattle, right above me," Portland native Lucas said of the Kent, Washington, native. "I thought he tried to swing the elbow at me. He didn't connect but I just kind of wanted a reason ... it was my fifth foul I had to go out with something. I couldn't just walk off the court," he joked.
The 6-10, 240-pound Lucas had two points and two boards in 13 minutes; Smith had 20 points and five boards in 27 minutes.
Cliff guards Smith: KU's Cliff Alexander, 6-8, 240, guarded the 350-pound Smith at times.
"He was a big guy. I haven't played anybody as big as him. He knew how to use his body. He's a great player," Alexander said.
This, that: KU snapped Georgetown's 33-game win streak in nonconference games in the Verizon Center. ... KU opened 3-of-12 shooting, then made 6-of-8 to lead, 22-11. KU went without a field goal for six minutes, allowing a 15-1 Georgetown run. ... KU recorded its third-lowest shooting performance of the year (37.7 percent), but had its highest three-point percentage (58.8 percent) since going 11-for-18 (61.1 percent) against West Virginia (3/2/13). The 10 three-pointers made are the most since knocking down 10-of-22 at Iowa State (1/29/14).
---
More news and notes from Kansas at Georgetown
---
More like this story on KUsports.com