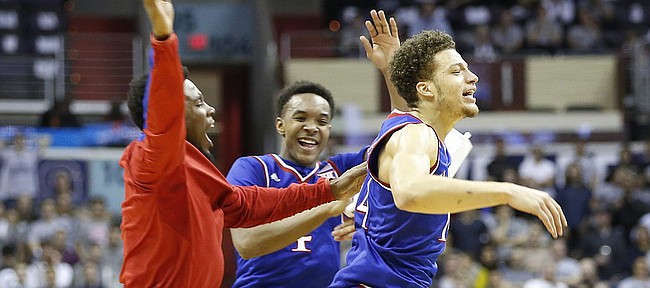 Photo Gallery
Kansas basketball v. Georgetown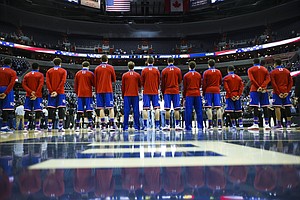 Images from the Jayhawks game against the Hoyas at Verizon Center in Washington D.C.
Podcast episode
Bill Self discusses 75-70 road victory vs. Georgetown.
Podcast episode
Brannen Greene and Kelly Oubre discuss victory at Georgetown.
KANSAS 75, GEORGETOWN 70
Washington, D.C. — Georgetown's basketball fans, who had already seen Brannen Greene swish four threes in as many tries, let out a collective groan as Kansas University's 6-foot-7 sophomore guard prepared to let another fly during crunch time of the Jayhawks' 75-70 victory over the Hoyas on Wednesday night in Verizon Center.
"They knew the same thing we did. That he was gonna make it," KU forward Landen Lucas said, with a smile.
The concern of the 11,000 or so Hoyas fans in the crowd of 14,164 — KU again had a large contingent of fans — was well-founded as Greene indeed hit a fifth three with 2:34 left, upping a 65-63 lead to five points.
"I loved that three, honestly," said Greene, who confessed he did hear the crowd sigh before he attempted that final trey. "It was a big three for me and I enjoyed it. We had designed a new play we put in called 'ear.' It broke down. Wayne (Selden, seven points, three assists) drove to the middle. Landen set a big-time screen that wasn't part of the play. I found myself wide open, took it and knocked it down."
Greene also hit two free throws, upping a 71-67 lead to six points at :15.3. For the night he tallied a career-high 19 points off 5-of-6 shooting (his old career high was 17 points this season against Rider). He was 5-of-5 from three, shattering his old personal-best mark of two threes made in a game. 
And he was 4-of-4 from the line on a night KU made 25 of 32 free throws to Georgetown's 19 of 26. Cliff Alexander again came through big-time by hitting two charities with one minute remaining, upping a one-point lead to 70-67.
"I found myself open and just let it go. That's what I do. I shoot the ball," said Greene, who hit three threes in a game-changing 10-3 flurry that turned a 44-41 deficit at 13:47 into a 51-47 lead at 11:44.
"I mean I just play my role. It came to me. I took the shots and I made the shots. There have been games I took five, six threes and didn't make them. It was my night. Sometimes you see a big basket and that's what I saw tonight," Greene added.
Greene put up monster stats in just 19 minutes. He battled foul problems, picking up his fourth with 11:28 remaining.
"I mean I know I'd come out of the game if I did that," Greene said of perhaps hoisting more than the economical five threes he took. "I just stay within the rhythm of the team. I felt well since the shootaround earlier today. I like the gym. I like the arena. (I) just played within the team."
KU coach Bill Self noted that KU "needed every one," of Greene's threes.
"Of course, according to him if I'd let him play he could do that most every night," Self said with a smile. "He seems like he's been focused of late. I think playing against Florida when he has two of his boys (AAU teammates) out there playing all the minutes and he doesn't play a lot of minutes ... some humbling things have happened he's taken in a positive way.
"He is a talented kid," Self added of the Juliette, Georgia native. "He's gotten in his own way with us on the court by not doing probably what we think he's capable of doing. Tonight he was totally different. He was locked in. He made shots, but even if he hadn't made shots he still would have played pretty well."
KU, which had a 13-point lead the first half, but ultimately led by only two at the break, suffered 17 turnovers while hitting just 37.7 percent from the field. But several players stepped up on the most crucial possessions, including Frank Mason III (14 points), who cashed a three to bust a 58-58 tie at 7:45; Alexander, who busted a 61-61 tie with five minutes left; and Perry Ellis (13 points, 10 boards), who followed that with an inside shot to make it 65-61.
The Jayhawks survived a 20-point performance from huge, 6-10, 350-pound Josh Smith.
"Our guys said, 'Gosh, we knew he was big; we had no idea.' It's hard to simulate how big he is until you guard him," Self said. "Landen and Cliff are pretty strong guys. If it was a lunar eclipse you'd never see 'em if Josh was standing between them. We actually did a decent job considering how strong he is."
KU, 7-1, will next meet Utah at 2:15 p.m., Saturday, in Sprint Center in Kansas City, Missouri.
---
More news and notes from Kansas at Georgetown
---
More like this story on KUsports.com