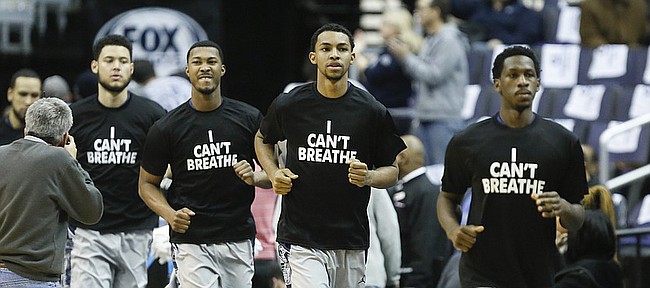 Photo Gallery
Kansas basketball v. Georgetown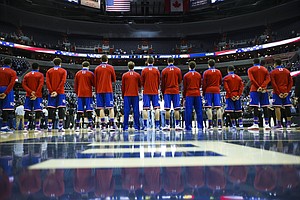 Images from the Jayhawks game against the Hoyas at Verizon Center in Washington D.C.
Podcast episode
Bill Self discusses 75-70 road victory vs. Georgetown.
Podcast episode
Brannen Greene and Kelly Oubre discuss victory at Georgetown.
KANSAS 75, GEORGETOWN 70
Washington, D.C. — The Georgetown basketball players, to a man, wore, "I Can't Breathe," T-shirts during warmups and the national anthem before Wednesday night's 75-70 loss to Kansas University.
Hoyas senior center Joshua Smith explained that they did so to support the family of Eric Garner, who died in New York City after a policeman put him in a choke hold while arresting him for selling loose cigarettes. Garner's last words were, "I Can't Breathe." Georgetown's T-shirts were worn one week after a New York grand jury decided not to indict the police officer, which led to a number of NBA players wearing similar T-shirts.
"We didn't wear the shirts to say that the cops were wrong or that the system was wrong, we just wore the shirts to show our condolences to the family," Josh Smith said after totaling 20 points, five rebounds, two blocks and two steals. "Because no matter who you look at it, we don't know who was right or wrong, but they still lost somebody and they won't get that person back, so that was the main reason we wanted to wear the shirts, just to say we're aware of what's going on.
"We're not choosing sides. We're not saying who was right or who was wrong. We're just looking out for the family because they're the most important people right now in this whole thing, because with all the protests going on, they lost somebody."
Teammate D'Vauntes Smith-Rivera added: "There were a variety of reasons we wanted to wear the shirts. There were quite a few families that lost their loved one ...with the Mike Brown case and Trayvon Martin also. We really wanted to represent all those families and send our condolences that way."
Georgetown coach John Thompson III said the entire team watched the verdict in the Ferguson, Missouri, case in which Brown died after being shot by a police officer in an August 9 incident and the grand jury decided not to charge the officer. Since then, Thompson said, he has had several conversations with his team.
"I thought they wanted to do it the other day and I thought it was important before you jump out there, we had several conversations about what's going on and what does it mean and why do you want to go out there," Thompson said.
Thompson stressed that the players did not wear the T-shirts to start a trend.
"The emotions and the feelings in the locker room are all over the place, meaning it's not necessarily everyone feels the same way," Thompson said. "The emotions are from fear to frustration to confusion to anger and the reasons why every individual wanted to wear it is all over the place, too, which is probably pretty consistent with the emotions and the feelings across the country right now. I think the group wanted to possibly put ourselves in a position to be a part of a process to help where there is positive change as opposed to just negative reactions."
When a reporter started a question by saying that his father, John Thompson, never hesitated to make a statement, the Hall of Fame coach, who was standing in the back of the room, joined the conversation.
"What did he say?" Thompson the father said.
The reporter repeated what he had asked and Thompson the father weighed in with his deep, strong voice.
"This is a (expletive) school, man," the former Georgetown coach said. "That's your responsibility to deal with things like that. This is not a ... damn pro team."
---
More news and notes from Kansas at Georgetown
---
More like this story on KUsports.com