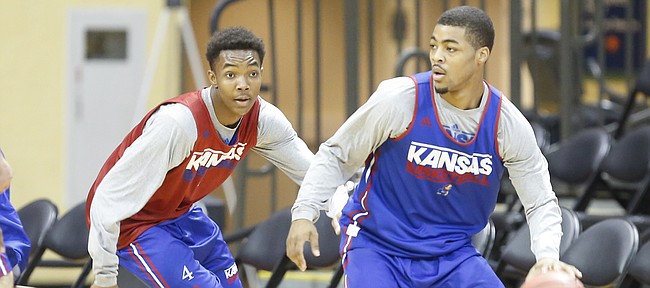 Frank Mason checked back in, and Devonté Graham stayed on the floor with 11:52 remaining and the score tied in a game with Florida that Kansas University won Friday night, 71-65.
The game changed.
The comeback from a deficit that grew as large as 18 points already was well underway, the deficit trimmed to 10 points, but with two small guards on the floor together, the momentum shifted to another speed. Mason and Graham attacked, putting Florida defenders in retreat mode. The duo also changed the game at the other end, applying defensive pressure that made it tougher for the Gators to hang onto the ball and get into their offensive flow.
By the time Mason sprained his ankle and limped off the court, KU had tied the score with 5:46 left. In that span of 6:06, the Jayhawks had outscored Florida, 15-5. Mason had two steals during the stretch, the smooth-passing Graham one.
"Those guys need to play together some, there's no question about that," Self said during his Monday news conference. "We put so much pressure on the defense when those guys were in there together, as opposed to when just one of them was in the game."
Mason returned for the final three minutes, and Graham stayed out there with him. Graham contributed nine points, three assists and three steals in 13 second-half minutes.
"It's a confidence booster, knowing that coach trusts me through a stretch like that," Graham said afterward. "The whole team and coaching staff have confidence in me, so I'm not really low on confidence, but it's a good confidence-booster being in there at the end of the game like that."
Next up for Graham, Cliff Alexander, Sviatoslav Mykhailiuk and Kelly Oubre is their first true road game, at 6 p.m. today vs. Georgetown.
Mason's activity has been limited by the ankle injury, but he practiced Tuesday and is set to play.
Georgetown's guards are much bigger than Florida's, so Self might not want to play Graham and Mason together as much. Then again, depending on how things go, he might want to speed things up or pester Georgetown's guards by making them battle quickness.
Mason, a 5-foot-11 sophomore, is from Petersburg, Virginia, roughly a two-hour drive from Verizon Center. The 6-2 Graham is from Raleigh, North Carolina, twice as long a drive. If Self does play them together, it won't be for the friends and family in the stands. The long (David Padgett) and the short (Conner Frankamp) of it is that Self doesn't coach to satisfy parents. He coaches to win games.
More like this story on KUsports.com