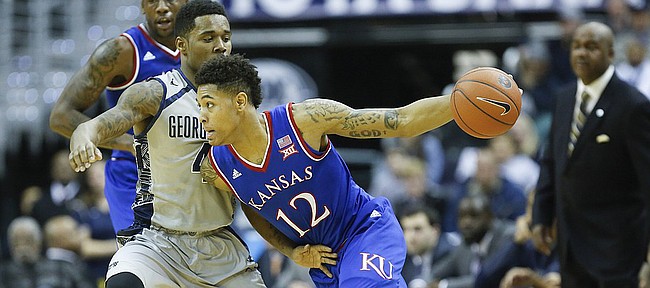 Photo Gallery
Kansas basketball v. Georgetown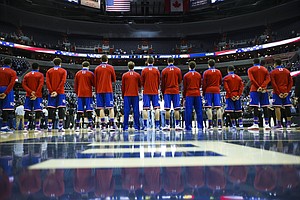 Images from the Jayhawks game against the Hoyas at Verizon Center in Washington D.C.
Podcast episode
Bill Self discusses 75-70 road victory vs. Georgetown.
Podcast episode
Brannen Greene and Kelly Oubre discuss victory at Georgetown.
KANSAS 75, GEORGETOWN 70
Washington, D.C. — In team sports, confidence for a struggling player almost always starts building when that player has reason to believe he made a major contribution to a victory.
For ballyhooed freshman recruit Kelly Oubre Jr., that seed took root Wednesday night in the Verizon Center, where Georgetown's tough defense made the visitor play ugly, but not ugly enough to lose.
KU toughed out a 75-70 victory, Oubre made himself part of the action and his positive plays outweighed his negative ones.
Oubre set career highs in minutes (16), points (seven), rebounds (five),   steals (two) and free throws (5 of 6).
As soon as he checked in, Oubre hesitated defensively and didn't lend needed help, but he quickly lost that tentative approach and consistently played aggressively. He drove hard to the hoop and drew fouls.
"I love my team," Oubre said afterward. "We showed some signs down the stretch that we're going to be great. Definitely my minutes were important. 
"I knew that I needed to rely on these guys and these guys needed to rely on me if we were going to get this win. It was definitely a big-boy game and we stepped up."
Oubre knows what he needs to do to say in the rotation.
"Just to do anything that coach needs me to do," he said of his role. "He can throw me anywhere and I'll do it. Just being disciplined, keeping my man in front of me, stopping guys on defense and working within the team confines. ... I try to go out every night and play my heart out for the name across my chest and my brothers."
At this point in his career, the closer he gets to the basket, the more he can help the team. He'll earn minutes by picking up garbage buckets and stealing possessions.
"I thought Kelly played well," KU coach Bill Self said. "He's labored a lot and he's a much better player than what he's had the opportunity to show through minutes. And he's much better than what he's shown when he's had the opportunity. And tonight I think was his best game he's had, without question."
Transforming from McDonald's All-American to complementary player doesn't always come naturally. Oubre showed signs Wednesday that he's game to give it the old college try.
Sophomore Brannen Greene's game has developed to the point that Oubre will have a difficult time stealing minutes from him, but Oubre can eat into struggling junior Jamari Traylor's playing time.
"We're going to start playing him some at the four to maybe make him a bad-matchup four," Self said of Oubre. "And the biggest thing is he got his hands on loose balls. He keeps balls alive. He's one of those guys that can get in the paint off the bounce and pick up a loose ball and score off that."
At times last season it looked as if Andrew Wiggins could help Kansas more on the inside than the perimeter. The long-armed Oubre isn't as quick or explosive as Wiggins, but has a better build to withstand shots in the post.
"He's not a guy you're going to play to shooting threes on every possession like Brannen," Self said of Oubre. "He can be a lock-down defender eventually and he's got such great length. There are a lot of things he does well. He just hasn't quite tightened it all up yet, but tonight was a good step for him."
Greene, Monday's star with 19 points in 18 minutes on 5-of-5 shooting from three, appreciated the little things Oubre did to contribute to the victory.
"Big-time," Greene said of Oubre. "Big steals, big blocks, big rebounds, big points. He was just aggressive. We knew that we had Josh Smith coming off the ball screen so he knew he could attack, every time, every time, so even if didn't score the point he was kicking it to somebody else who helped create the offense."
If Oubre continues to improve, KU's bench gets even stronger and it never has been weak.
---
More news and notes from Kansas at Georgetown
---
More like this story on KUsports.com