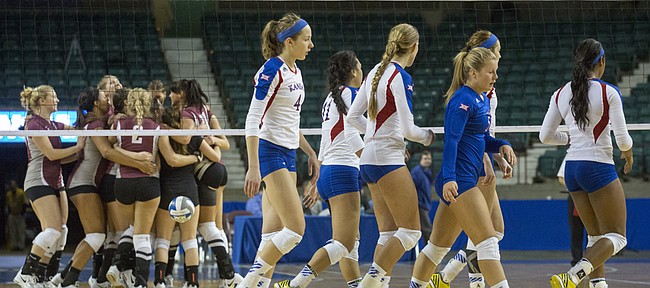 Topeka — The members of Arkansas-Little Rock's volleyball team didn't come all the way to the Kansas Expocentre to let their nation-leading winning streak vanish.
The Trojans came to make some noise in the NCAA Tournament, and they did just that, toppling host Kansas University, the No. 16 overall seed, in five sets Friday night.
The Jayhawks, hosting the first two rounds of the postseason tourney for the third year in a row, led the Sun Belt Conference champions two sets to one before the Trojans took the last two, won, 27-25, 19-25, 22-25, 25-18, 15-10, and extended their winning streak to 25 matches.
"They're fighters. They're not quitters," UALR coach Van Compton said of her players, who haven't lost since Sept. 12. "They want to win, and they do find ways to win."
KU (22-9) provided a little help, too. Freshman Jayhawks setter Ainise Havili, who passed out a match-leading 54 assists, said a noticeable difference reared its head at the worst time, in the fifth and decisive set.
"They had a lot more energy than us," Havili said of the Trojans (30-4), who will face Oregon State tonight for a berth in the Round of 16. "And that's on all of us. But they had an energy, and they kept it through the whole, entire set. Good on them."
That wasn't the only thing that stood out about the fifth set, though, Kansas coach Ray Bechard noted.
"And we had eight attack errors and a service error," the coach said, "so when you start talking about giving up nine points in a 15-point game, that's pretty hard to overcome."
What's more, the Jayhawks failed to manage UALR senior outside hitter Edina Begic the way they had hoped, and she burned the better seed for 27 kills. Junior outside hitter Sonja Milanovic (15 kills, 16 digs), Bechard added, helped the Trojans out of some binds as well.
Begic and Milanovic are just two of the team's five players from Bosnia-Herzegovina. The imports had the Jayhawks reeling at times, but Bechard thought his players contributed to the Trojans' 18.5 team blocks.
"You take low, hard swings against good teams," KU's coach said, "that's gonna come back at you."
Similarly self-inflicting, the Jayhawks let a 2-1 lead slip away, making them 1-6 this season in five-set matches.
Begic, a 6-foot-2 force from Sarajevo, said the Trojans had little interest in ending their impressive season in the first round of the tournament.
"When we were down 2-1, we just got together, and we were like, 'OK, we have to fight like there's no tomorrow, like it's our last game,' and I thought that's what we did, and that's how we came back," she said. "We were fighting point for point. They did, too. They were such a great team, and the game was amazing, but I thought we were a little bit lucky, and we were working a little bit more harder."
The loss did, of course, mark the final match for KU senior standouts Chelsea Albers (nine kills, 20 digs) and Sara McClinton (15 kills).
"We didn't end our careers the way we wanted to," Albers, an outside hitter from Papillion, Nebraska, said. "We were looking to go out in a significant way, and this loss was not what we were pushing for."
McClinton, proud of the program's recent success, said NCAA Tournament berths need to be the standard. She also hoped KU's next tourney appearance doesn't end so abruptly.
Still, it wasn't as if Kansas didn't have its chances.
Said Bechard: "If you don't play at the level you really need to play at, a good team's gonna hang around and continue to persevere. We erred a little too much in that fifth set for it to come out the way we wanted to. It's gonna hurt for a while, but at some point I'm sure we'll look back on this season and appreciate first and foremost the great careers of two seniors and the young group that we have. Right now, it's a little difficult to get to that point."
More like this story on KUsports.com