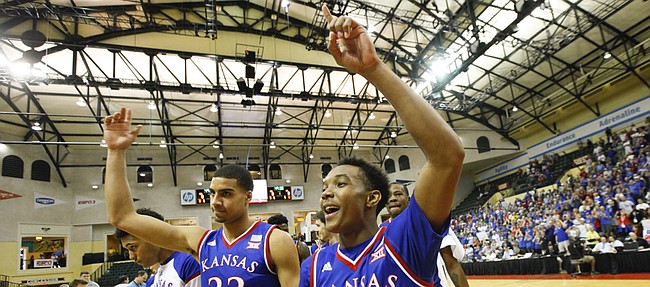 The championship game of the Orlando Classic was not considered a "must win" for Kansas University's basketball team since it's so early in the 2014-15 season.
It was pretty important, though.
"I'd never admit to it beforehand, but we needed something good to happen to us against a quality opponent after what happened a couple weeks ago. We needed that for our confidence," KU coach Bill Self said on Monday's "Hawk Talk" radio show. He was referring to the No. 11 Jayhawks downing No. 20 Michigan State on Sunday, just 12 days after a 32-point loss to No. 1 Kentucky.
"We needed to play a quality team in a game without a lot of rhythm," Self said. "It was a toughness-type game. It was kind of a fist-fight-type game. It was a typical Big Ten game. The guys played like men for the most part."
Honors: KU junior Perry Ellis on Monday was named Big 12 Player of the Week and CBSsports.com's national player of the week after averaging 18.8 points and 7.5 rebounds in four games. Ellis, who was so honored by the league twice last season, was MVP of the Orlando Classic.
"I thought Perry was far and away the best player in the field," Self said. Ellis had 17 points and nine rebounds in the title game; 24 points and 13 boards vs. Tennessee; and 17 points and five boards vs. Rhode Island.
"What he did better than anything was go after the ball. That's all he has to do to play well is just be aggressive. He scored on the block, scored facing (the basket). The only thing he didn't do well was shoot free throws. One game he's 11-for-12 (Tennessee), then he struggled against Michigan State (3-of-7). We know he'll make them. I was real pleased with Perry. I thought he played great," Self added.
Lucas opens well: Sophomore forward Landen Lucas has started four of six games this year, with freshman Cliff Alexander coming off the bench.
"Landen's been really good because early in the game officials usually want to set the tone on how the game will be called. Landen makes other people have contact with him. They are going to call a foul on Landen or call a foul on the other guy, but they are going to call something usually. That's not all bad because we do have some bodies we can throw out there," Self said.
"Our team has gotten off to a better start with Landen starting than anybody else. Cliff is coming. Cliff will be really good, but I'm not ready to say Cliff is starting above Landen," Self added. "Cliff will probably play more minutes than Landen. It's OK for a young guy to sit and watch a little bit so when he gets in the game maybe he's not quite as uptight, anxious or nervous. I don't want Cliff to get out there and pick up two fouls the first two minutes and be wasted for the half for the most part. I'm impressed with Landen. He's done a nice job."
Shoulder update: KU freshman Devonté Graham played five minutes in the title game after playing seven in the semifinals against Tennessee and 15 in the opener vs. Rhode Island.
"He's sore. We anticipate him being sore," Self said of Graham, who has a shoulder sprain. "He'll be a guy who hopefully gives us 10 to 12 minutes a game. That'll gradually go up to 15, 20 or whatever depending on his health because he's too good when healthy to not have out there."
Minutes calculated: ESPN's Jeff Goodman has figured out that KU's Kelly Oubre Jr. has netted the fewest minutes of any top 10 recruit (through six games) since 2005. Oubre has played 50 minutes. North Carolina's John Henson totaled 62 minutes in his first six games; UNC's Tyler Zeller 72; Kentucky's Dakari Johnson 73 (this season); Duke's Mason Plumlee 81; UNC's Theo Pinson 94 (this year); and Texas' Jordan Hamilton 99.
"We've got some guys not starting now who will end up playing in the league," Self said on "Hawk Talk," not specifically referring to Goodman's ESPN blog, but minutes in general. "They've got to work and stay focused and understand it's a process. There's so much negativity sometimes if a guy is highly recruited and he doesn't play a lot or produce a lot immediately: 'Hey, what's wrong?' Well, the other guys try hard, too. The other guys are good players. Sometimes it just takes kids a little longer to figure it out.
"The purpose is to develop and be as close to your ceiling as you possibly can when the time is right," Self added. "It's such a negative vibe that sometimes people put out there and other recruiters put out there: 'Well, he was really good in high school, and he's not even playing that much.' That happens sometimes everywhere. It takes some a little bit longer, but it doesn't mean they are not great players and won't be great prospects. There will be a lot of changes in minutes in our program as kids continue to develop and get better."
More like this story on KUsports.com