Photo Gallery
KU volleyball vs. Creighton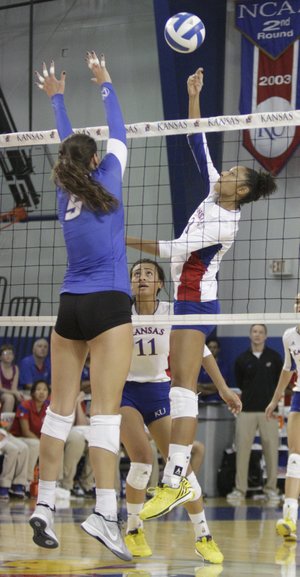 KU competed against Creighton University in a volleyball match Saturday at the Horejsi Center.
Omaha native Sara McClinton, who is friends with a bunch of players on Creighton University's volleyball team, knew the No. 23-ranked Bluejays had revenge on their minds entering Saturday's rematch of last year's NCAA Tournament Round of 32 contest in Horejsi Center.
"We knew they were going to come out for blood and that they were bitter, because we had that feeling toward Wichita State when we got knocked out of the tournament before," Kansas University senior McClinton said after smashing 18 kills in the No. 22-ranked Jayhawks' 3-1 victory over CU.
It was the same score as last year's KU win over the Bluejays in Allen Fieldhouse. In last year's first round, KU defeated Wichita State, the squad that ended the Jayhawks' season in 2012.
"We have seen both sides of it. We knew we really had to get on them early," McClinton said after Saturday's 25-21, 27-25, 17-25, 25-16 decision.
The 6-foot-2 McClinton, who had 13 kills in Friday's loss to Lipscomb and nine in a win over Utah Valley, was named MVP for the weekend's Kansas Invitational. Freshman setter Ainise Havili, who had 48 assists Saturday, made the all-tournament team.
"I couldn't do it without my teammates," McClinton stated, adding, "I think you always want to strive to do your best, and the awards come after that. I want to try to be one of the best ones in the gym, so I guess MVP comes with that."
McClinton's 40 weekend kills increased her career total to 995, just five from the coveted 1,000. She had eight kills and junior Tiana Dockery six of her total of 15 in the final set.
"I'm a type of player I will look to the setter and say, 'Set me the ball.' In game situations I want the ball," McClinton said. "I am more nervous off the court than I am on the court. Not everyone has that, I guess, and it's a quality our setters use (at) end game."
There's another Jayhawk with that quality — 6-1 senior Chelsea Albers of Papillion, Nebraska, who like McClinton is a returning first-team all-Big 12 selection. Albers had eight kills versus the Omaha school.
"Chelsea is super competitive. She wants to win. It's like what we have in common," McClinton, a human biology major, said. "We know we are on the same page. Both of us are the type of players we want to be set at the end of the game. We don't want anybody else being set. We will demand the ball. We know that between each other we are going to get it done."
McClinton certainly relishes each and every kill.
"You actually will know when it is going to be a kill. You know if your feet are set, if you have made an aggressive approach," McClinton said. "You'll be able to see when you are jumping in the air. If you have an open block or no one is blocking you at all, then you know you are going to be able to crush the ball. You can feel that coming off your hand. It's amazing."
Also Saturday, sophomore libero Cassie Wait had a career-high 27 digs and freshman Kayla Cheadle five blocks. KU, CU and Lipscomb each went 2-1 at the tourney, while Utah Valley was 0-3.
The Jayhawks bounced back from Friday's shocking loss to unranked Lipscomb.
"A good response," coach Ray Bechard said. "I felt when we gathered for our pregame meal everybody was upbeat and ready to go. I had a sense it was a new day. Maybe that's good about a youthful team. They have a short memory. Our hitting efficiency was over .400 in the fourth set. Obviously Sara McClinton was a big part of that. Two really competitive regional teams ... the win will go a long way, I think."
More like this story on KUsports.com