Photo Gallery
KU Bob Timmons cross country meet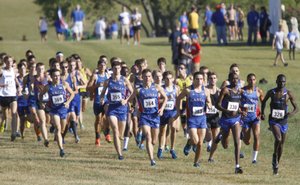 Kansas University runners participated in the Bob Timmons Dual Classic cross country meet Saturday at Rim Rock Farm.
Kansas University opened its cross country season with two team victories and an individual triumph in the Bob Timmons Dual Classic on Saturday at Rim Rock Farm.
Red-shirt freshman and Lawrence High graduate Grace Morgan moved in front near the midway point of the race and never looked back for her first victory at Kansas.
Jacob Morgan took second place for the men's team. The Jayhawks' men's and women's squads both finished first.
Kansas went 2-3-4 in the men's race. Morgan was followed by Tyler Yunk in third and Chris Melgares in fourth. Brandon Bernal placed 12th, followed by Juan del Azar 13th, Jack McDonald 22nd, Adel Yoonis 25th, Ben Brownlee 26th and Logan Sloan 30th.
In the women's race, Morgan easily outran second-place and defending champion Samantha Watson of Oral Roberts. Morgan won with a time of 18:49.1; Watson was second in 19:19.6.
In the men's race, Morgan, a junior transfer from Colorado State originally from Topeka, finished in 19:16.2 in his first outing as a Jayhawk. Winner Sylvester Barus of Iowa Western ran a time of 18:21.6.
Other Jayhawk women's placings included Jennifer Angles third, Rachel Simon fourth, Kelli McKenna sixth, Hannah Dimmick seventh, Rachael Schaffer eighth, Sarah Kelly 11th, Julia Dury 13th and Jasmine Edwards 15th.
More like this story on KUsports.com