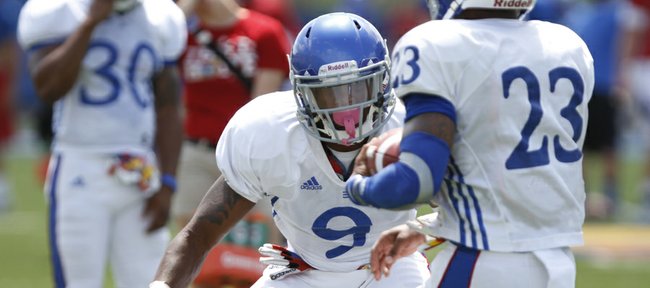 Nobody has to tell Kansas University sophomore safety Anthony "Fish" Smithson that failing to prepare is preparing to fail.
Ranked fourth on the quarterback depth chart as a junior at Highland High in Salt Lake City, Smithson said he prepared as if he were the starter. Buried himself in the playbook, paid attention in practice, pictured himself as the man on every snap.
"One guy got suspended," Smithson remembered. "Another guy got hurt. The other one didn't play well, and the next thing you know, the fourth game, I was called on. I knew my plays. I knew everything, and I led my team to a state championship. Ever since then, I've prepared myself to be the starter no matter what."
Smithson, more than anybody on KU's roster, illustrates that in some areas, most notably the secondary and wide receiver, this is a deeper team than a year ago.
The Jayhawks didn't have enough capable, healthy defensive backs to use dime coverage (six defensive backs). Even the nickelbacks were linebackers.
Now, returning starting safeties Cassius Sendish and Isaiah Johnson, plus a talented trio of cornerbacks in returning starters Dexter McDonald and JaCorey Shepherd and newcomer Kevin Short are complemented by starting-caliber defensive backs Smithson and Greg Allen.
Smithson has made a huge impression on KU coaches after totaling eight interceptions and 74 tackles in his lone season of junior-college football at Hartnell College.
Count on Smithson being every bit as prepared as he was when he made that first start at quarterback, a night he remembers well.
"One of my offensive linemen came up to me, 'Fish, you nervous? You nervous? It's your first start.' I remember the coach came over and was like, 'Shut up! Don't be talking to him like that. He's about to go on the field.' I just started laughing, knowing this was what I prepared for," Smithson said. "I had five touchdowns total. I threw four and ran for one. The starter sat for two weeks then came back, and the coach made a business decision. I ran the offense well for two weeks, didn't make any mistakes, and he gave me the job."
Smithson said he obsessively studies himself, teammates and opponents on film, forever in search of the edge.
"I read all 11 guys on offense, and I take pride in learning offensive systems (of opponents)," Smithson said. "I study film for tendencies."
Such as?
"If an offensive lineman's fingers are white, running play," Smithson said. "If he's pressing real hard, he's down, all his weight is on his toes and on his hands, he's coming right at you. But when he's not and his belly is up, that means he's on his heels, he's coming back for a pass block."
He reads wide receivers after the snap.
"Some receivers run all their routes the same," he said. "Some, if it's a run away from them, they don't run as hard. Sometimes I look at if he goes straight or stems, and I guess the route before he runs it. If I guess it right, I feel that much better about myself. I love studying and learning their tendencies because it's like putting a puzzle together."
Putting together a college-football roster can present a most challenging puzzle. At least in the secondary, Kansas has pieced together a very good one brimming with talent and depth.