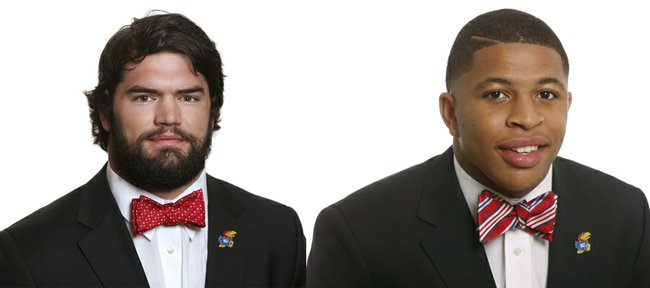 SEMO opens with rout
Southeast Missouri State opened its football season with a 77-0 rout of Missouri Baptist on Thursday night in Cape Girardeau, Missouri.
The Redhawks rushed for 304 yards, passed for 212 and forced seven fumbles en route to their highest-scoring outing in the NCAA Div. I Football Championship Subdivision tenure.
SEMO completed 12 of 14 passes and rolled up 516 total yards while holding MBU to 81 total yards. The Redhawks averaged 9.6 yards per play.
Southeast Missouri State will travel Sept. 6 to face Kansas University.
Five months from now, when the Kansas University football season is over and the Jayhawks are forced to say goodbye to a couple dozen seniors, few will be as tough to bid farewell to as linebacker Ben Heeney.
From his lead-by-example tenacity on the field and blue-collar work ethic off of it, to the name recognition and list of achievements that fills nearly an entire page in this year's media guide, Heeney's absence will leave a void.
But there's a true freshman currently going through his first preseason camp that may be positioning himself to slide into the Heeney role for the next few years.
Kyron Watson, a 6-foot, 235-pound linebacker from East St. Louis (Illinois) High, has spent nearly every minute of camp watching the way Heeney works.
"Here's an odd-couple relationship for you," KU coach Charlie Weis said. "Heeney has taken him under his wing. Seriously. Even in recruiting, they kind of hit it off. I think that Kyron would like to end up being Heeney when Heeney is gone, and that's a good thing."
Weis never has been shy about letting his admiration for Heeney be known. He's called him as good as any defensive player in the Big 12. He has compared him to former NFL all-pro standout Zach Thomas on more than one occasion. And he has always given the indication he feels at least a little bit better about going to battle in the Big 12 because Heeney is on his side.
Weis already is starting to sense some of those same feelings in Watson.
"I've been very encouraged (by) Watson," Weis said during the first week of camp. "The kid has got a lot of athleticism. He's got a lot of drive. He's done everything the right way, did well academically in the summertime. Kyron will be pushing (for playing time). Kyron is a sideline-to-sideline player, and he's got leadership that's a little bit suppressed because he's a freshman, but he's one of those guys that you can see down the line him being potentially in that role."
Heeney sees it, too. And instead of blowing Watson off as a pesky freshman who doesn't know a thing about what it takes to play college football, Heeney is doing his best to help the young guy's development and get him ready to help the team as soon as this season.
"Before Kyron even got here, he was always texting me and just trying to get to know me and stuff, so we had a relationship before he even got up here," said Heeney, who played almost exclusively on special teams as a true freshman in 2011. "Since he's been here, I've tried to be the biggest mentor I can to him. He's just thirsting for that knowledge. Anything I tell him, he's listening to. He just wants to learn."
Added Watson of his mentor: "I'm learning everything I can from Ben Heeney because he's a great player. I'm just trying to model his footsteps and his career at KU, and I'm trying to better myself off of what he did."
Weis said he first discovered how good Heeney would be by the end of the 2012 season, Weis' first with the Jayhawks and Heeney's first as a starting linebacker.
If the senior from Hutchinson can help lead Watson down the same path, similar words might be uttered about him a few years from now.
"He looks a lot better than I did when I first got here," Heeney said. "You can just tell that he's got the instincts, and he's got the potential to be a really good player. He's got a really bright future ahead of him."
More like this story on KUsports.com