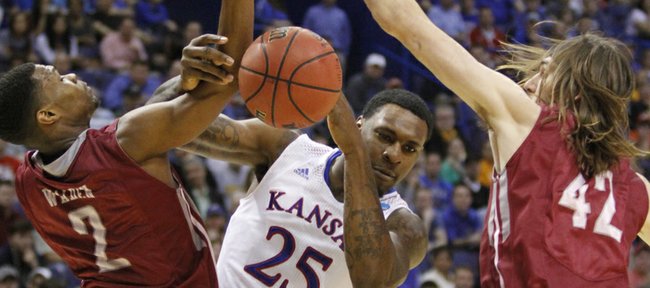 Basketball notebook. ...
Former Kansas University center Tarik Black has signed a two-year, partially guaranteed contract with the NBA's Houston Rockets, the Houston Chronicle reported on Wednesday night.
The team earlier issued a news release that did not indicate the length or monetary terms of the deal.
Rockets beat writer Jonathan Feigen of the Chronicle indicated on Twitter there was "a small amount (of money) guaranteed on a two-year deal."
Feigen added: "He'll obviously be a longshot to make team, but could be a good RGV prospect." RGV is Rio Grande Valley of the NBA Developmental League.
Playing five games with the Rockets at the 2014 Orlando Summer League, Black averaged 10.0 points, 6.0 rebounds and 1.0 blocks in 20.0 minutes per game. Black also averaged 4.5 points and 5.0 rebounds in 16.0 minutes a game in eight games for Houston in the Las Vegas Summer League.
"Just woke up and found I can put it out that I have signed with the Houston Rockets. All glory be to God. An awesome organization #LetsWork," Black wrote on Twitter on Wednesday night.
New Rivals rankings: KU recruiting targets Jaylen Brown and Malik Newman had their No. 2 and 3 Class of 2015 rankings flip-flopped in Rivals.com's new list of the top 150 high school senior players.
Brown, a 6-7, 200-pound senior 6-7 small forward from Wheeler High in Marietta, Georgia, who will be attending the Oct. 10 Late Night in the Phog, jumped a spot from No. 3 to No. 2. Kansas, Kentucky, UCLA, Georgia, Georgia Tech and others are on his current list of schools.
Newman, a 6-3 shooting guard from Callaway High in Jackson, Mississippi, fell one spot to No. 3. He actually had a great summer, earning MVP honors for USA Basketball's gold-medal winning Under 17 world championship team. He's considering KU, Kentucky, UConn, Texas A&M;, Mississippi State and many others.
As far as some other players who are considering KU ...
— Diamond Stone, a 6-10 center from Dominican High in Milwaukee, jumped from No. 6 to 5.
— Cheick Diallo, a 6-9 forward from Our Savior New American in Centereach, New York, fell from No. 5 to 6. He'll be visiting KU on Sept. 19-21.
— Ivan Rabb, a 6-9 forward from Bishop O'Dowd in Oakland, fell from No. 4 to 7.
— Stephen Zimmerman, a 7-footer from Bishop Gorman High in Las Vegas, who will be attending Late Night, fell from No. 7 to 10.
— Late Night visitor Carlton Bragg, a 6-9 forward from Villa Angela St. Joseph in Cleveland, fell from No. 9 to No. 14.
— Jalen Brunson, a 6-1 point guard from Stevenson High in Lincolnshire, Illinois, stayed at No. 15.
— Brandon Ingram, a 6-8 forward from Kinston (North Carolina) High, who will attend Late Night, improved seven spots — to No. 18 from No. 25.
— Late Night visitor Tyler Dorsey, a 6-4 combo guard from Maranatha High in Pasadena, California fell to No. 19 from No. 18.
— Caleb Swanigan, a 6-8 forward from Homestead High in Fort Wayne, Indiana, improved to No. 16 from No. 20.
Meanwhile, Ben Simmons, a 6-8 forward from Montverde (Florida) Academy, and originally from Australia, remains the No. 1 player in the class. He's committed to LSU.
"Simmons is very versatile. He has the strength to post up and score on the low block and the skill to step out and make jump shots out to the 3-point line," writes Eric Bossi of Rivals.com. "He is a fine passer, good ball handler and remarkably consistent. At the highest level of basketball, Simmons is currently a bit of a tweener because he lacks prototypical size and length for a power forward and isn't a ridiculous wing athlete. But he is highly skilled, works hard and has earned his status as the top player in his class."
Twins tattoos: Marcus and Markieff Morris of the Phoenix Suns are letting fans pick their next tattoo. They have three options that fans can vote for with the hashtags #Dogs, #GMA and #FOE on Twitter. Take a look at the tattoos at our All Eyes on KU blog.
More like this story on KUsports.com