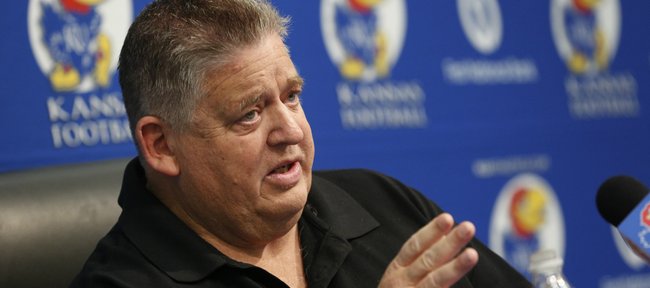 In a sense, the 2014 Kansas University football season starts tonight.
No, the Jayhawks won't be in uniform, under the lights with the roar of the crowd and smell of tailgating in the air. But their first opponent of the season will be.
Southeast Missouri State, an FCS program from Cape Girardeau, Missouri, kicks off its 2014 campaign at 6 tonight against Missouri Baptist at Houck Stadium.
Because the Redhawks, who will be under the direction of first-year coach Tom Matukewicz, open their season a couple of days earlier than most teams, the KU coaching staff and players will get extra time to prep for their Sept. 6 season opener at Memorial Stadium, and KU coach Charlie Weis plans to take full advantage.
"By the time they've already played their opener," Weis explained, "we'll have that information to use on Friday, which will allow us, on Saturday, to make sure our information is up to date so we can have a big jump-start getting ready for that first opponent."
This season marks the second in a row that the Jayhawks have had one of their two bye weeks during the opening week of the year. Weis said that would frustrate him and his team most years. Not this year, though.
"I'd always like to play early," Weis said. "But, in light of a couple of guys we've lost in the last couple of weeks (running backs Brandon Bourbon and Taylor Cox), I think it's turned into a benefit for us."
Another luxury of KU's early off-week was the opportunity to spend more time on future opponents, as well. Weis said practice time last week was spent looking at teams on the schedule after Southeast Missouri, such as Week 2 and 3 opponents Duke and Central Michigan. This week, however, turned into a dress rehearsal of sorts, with the Jayhawks simulating their regular game-week schedule.
"All it's done is given us more time," Weis said.
Bell earns scholarship
KU linebacker Beau Bell, a Wichita native and cousin of Oklahoma quarterback turned tight end Blake Bell, revealed Wednesday, on Twitter, that his status within the KU program had been upgraded.
"Proud to say that I have officially earned a scholarship here at the University of Kansas," Bell wrote.
Despite playing in nine games on special teams without recording any statistics, Bell has earned the respect of coaches and teammates for his fearless approach to the game and tenacious style.
RBs ready to go
Despite the blow of losing two veteran running backs to injuries just a couple of weeks before the start of the season, Weis is not crying for Kansas.
"We have two front-line guys that we like a whole bunch," Weis said. "A lot of people have heard about this freshman, Corey Avery. But we brought this junior-college guy from Hartnell, De'Andre Mann, who rushed for a couple thousand yards and 30 touchdowns last year. This isn't just another guy. Both these guys were pushing to be No. 1 when we had the injuries. This has elevated them to 1 and 1A and just changed the depth behind them."
More like this story on KUsports.com