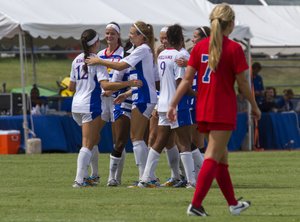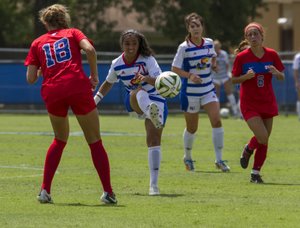 Not one member of the Kansas University soccer program thought "home sweet home" when Sunday's afternoon game against SMU was moved from brand-new Rock Chalk Park to recently vacated Jayhawk Soccer Complex, but the Jayhawks didn't complain.
KU's season-opening victory Friday against Wyoming left its new home field with some divots and potholes, so the Jayhawks headed back to the facility they have played at for years and practiced at all preseason for a 3-0 victory over the visiting Mustangs.
A few days after saying opponents had called Jayhawk Soccer Complex "dumpy," sophomore Tayler Estrada said she and her teammates had no problem with returning to the chided facility.
"The field here is a lot better than the field at Rock Chalk," said Estrada, who set up freshman forward Eli Mayr on the first goal of the afternoon, in the 31st minute. "So if anything, we were more excited to play here because we were able to play on an even surface."
KU coach Mark Francis said his team lacked sharpness in the first half, but finally broke away from playing average in the final 20 minutes. That's when senior forward Ali Kimura and junior midfielder Liana Salazar scored unassisted goals with precise shots past SMU backup goalkeeper Lisi Lonsberry (starter Shannon Moroney left in the 58th minute because of a left leg injury).
On the other end of the pitch, Kansas senior keeper Kaitlyn Stroud saved five shots, including a pair of diving denials — one on an Olivia Elliott penalty kick in the 85th minute.
The old field played much better for KU than the new one, where KU won 3-1 on Friday. Estrada said the new park had sand on the outskirts of the surface, and she likened those areas to running on a beach.
"That made it a little bit tougher to get out wide and control the ball," Estrada said.
Francis, who days earlier said some high school stadiums had better setups than the old soccer complex, said the Jayhawks (2-0) were disappointed about temporarily abandoning Rock Chalk Park, but were excited to play to their full capabilities Sunday without worrying about holes or sand traps.
No decision has been reached, the coach added, on when Kansas will return to its new stadium. A KU spokesperson said the plan is to repair the field throughout this week and determine as soon as possible when the team can re-inhabit Rock Chalk Park. KU's next home game is Friday against UT-San Antonio.
"Once the field's safe for us to play on," Francis said, "then we'll play there."
The coach identified resilience as one of the team's "core values" and said players have proven that the past few days, with the field issues.
"There's nothing that any of us can do about it," Francis said. "We've just got to move on, and the kids, to be honest with you, have done a really good job of that."
More like this story on KUsports.com