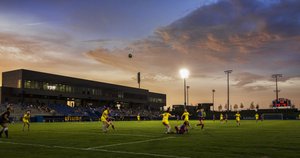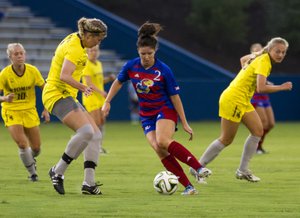 Friday night marked the first home game in the Kansas women's soccer program's history that was played under the lights of Rock Chalk Park, and the Jayhawks shined under them in a 3-1 victory against Wyoming in their season opener.
Kansas junior Liana Salazar did not waste any time scoring the first goal at Rock Chalk Park, ripping an acrobatic bicycle kick past Wyoming goalkeeper Alex Boehm in the second minute.
"That's how we drew it up," Kansas head coach Mark Francis said with a laugh. "No, it was a great goal by Li."
The bicycle-kick goal was a first for the 2013 All-Big 12 performer, and she was excited to set the pace for Jayhawks in their new home venue.
"That's what we've been practicing, is to score a goal in the first five minutes so we can have the tempo of the game to control the game," Salazar said.
Kansas did not let up after the first five minutes. KU controlled possession at a 66-34 percentage clip in the first half thanks to aggressive midfield play and crisp passing up front.
The Jayhawks made it difficult for the Cowgirls to position themselves for a comeback by tacking on their second goal in the 18th minute. A well-played ball into the box from Ashley Williams set up freshman Lois Huechan for her first collegiate goal.
"We have really good freshmen that clicked immediately, so we didn't have to spend that much time working with them because they're amazing," Williams said. "Obviously, the veterans were trying to help them out, and we were clicking at the right time, I guess."
After taking the 2-0 advantage into the break, Williams kept the Kansas offense rolling by finding the back of the net from just outside of the 18-yard box in the 50th minute.
The Cowgirls tried to claw back with a goal in the 87th minute from Shelby Shorb, but that was all they could muster despite outshooting the Jayhawks, 14-11.
Francis said he was pleased to see success from his new offensive attack.
"Other than the three we scored, I think we had four really good chances other than that," Francis said.
The Jayhawks will return to Rock Chalk Park on Sunday to take on SMU. Match time is 1 p.m.
"We got to recover and bounce back right, and they're going to be a good team," Williams said.
"We're just ready to finish off the weekend with two wins."
SMU (0-1) opened its season with a 4-0 loss to Nebraska, but Francis said the Mustangs should not be taken lightly.
"They had a very good year last year. Their coach (Chris Petrucelli) does a great job," Francis said. "I know him very well, and with him coaching them, they're going to be organized. We're going to have to be a little bit more organized and a little bit sharper defensively."
More like this story on KUsports.com