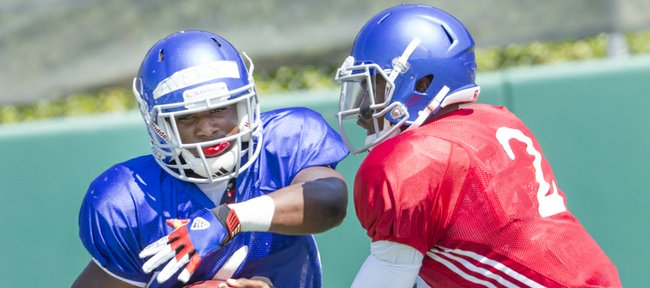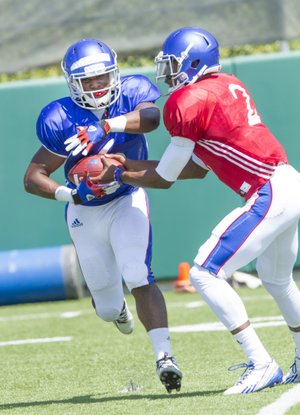 It was a screen pass. A 99-yard touchdown. The longest score in Dallas Carter High's storied history.
And it was one of the highlights that inspired a nickname that both stuck for the next two seasons and provided an injection of confidence for a player who already had a ton of talent. You may know him as Kansas University freshman running back Corey Avery. But he also answers to "Superman."
"That's what people started calling me around my hometown," Avery said during Thursday's meeting with the media. "It was my junior year going into my senior year."
Was it just the plays he made on the field that earned him the moniker?
"I guess," he said. "That has to be the only reason why."
Avery said the nickname hasn't surfaced in Lawrence because "I haven't displayed my talents yet."
He also said he loved the alter ego from Day One and has embraced it wholeheartedly. He owns 20 to 30 Superman shirts and barely goes a day without hearing some kind of reference to the Man of Steel.
"I love it," Avery said.
Despite being on the KU campus for just a little over two months, the freshman running back from Big D finds himself needing to deliver a big season for the Jayhawks.
The 5-foot-10, 195-pound back knows that. But it's nothing new. Avery's first taste of varsity football at Carter High came when he was a true freshman, just 14 years old. Since then, he has been wowing teammates, coaches and opponents at a fast rate, so much so that Ohio State, Nebraska and Texas all showed serious interest in signing him.
So why Kansas instead of those blueblood programs?
"I just felt like I could play somewhere else earlier," Avery said. "I didn't want to wait to play football."
He won't have to.
After seniors Brandon Bourbon and Taylor Cox suffered season-ending injuries earlier this week, Avery and junior-college transfer De'Andre Mann have been thrust into the spotlight. Instead of one guy having to shoulder the load, they'll be asked to do it together. Both seem to like it that way. And both seem to have faith in each other despite their bond dating back just a couple of months.
"Corey's a cool kid," Mann said. "He's really smart. He's coachable. And he's a really good guy. We're close."
So close, in fact, that the two players and their teammates do not sense any distance between them despite being at distinctly different points in their lives.
Mann is married, in his third year of college and 22 years old. Avery, 18, is just a few months removed from graduating high school, recently completed freshman orientation and not long ago had his high school coach call the staff at Ohio State to tell them he would not become a Buckeye.
Despite the clear differences and different styles — Mann is more of a power runner; Avery utilizes quickness and vision — the two are united in one quest.
"If he leads me or I lead him, we're gonna do whatever's best for the team," Mann said. "We're gonna add different flavors on the field. And me and him are gonna keep working hard."
Their workload has increased during the past few practices, and they've shared some of it with freshman safety-turned-running back Joe Dineen. The extra carries they've received during the past few days have helped all three.
"When you get more reps, it helps out because you get more comfortable, and that's what's going on right now," Mann said. "Corey's got a lot of composure. Joe seems the same way. I know they're gonna be ready for the moment."
There is, of course, no substitute for actually having done it, so no matter how the next couple of weeks go, both Avery and Mann expect KU's Sept. 6 opener against Southeast Missouri State to be intense. That was the plan all along, though.
"Anywhere that I would've went, I was gonna try to compete to be on the field," Avery said. "Anywhere on the depth chart."
Added Mann: "It's really exciting. I just cherish the moment and try to do whatever I can to help my teammates win games this year. That's what it's all about."
More like this story on KUsports.com