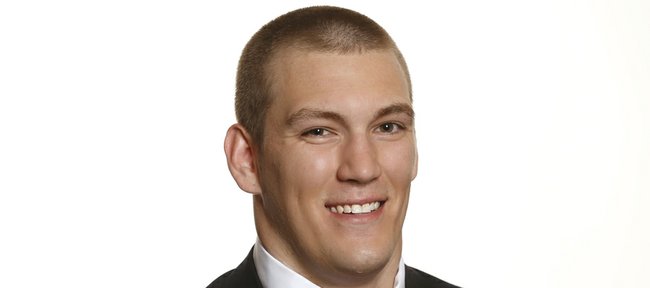 Monday's Kansas University football practice produced the first significant position change of the 2014 season.
Third-year sophomore Jordan Shelley-Smith, a tight end from Waco, Texas, spent Monday working with the offensive line, and it looks as if the shift is permanent.
Shelley-Smith wore jersey No. 79 — his old number was 87 — and spent a good chunk of his time working at right tackle with assistant coach John Reagan and the rest of the offensive linemen.
Judging by his effort in Monday's practice and his postings on social-media sites, Shelley-Smith seems to have embraced the move.
"Excited to announce that I will be following in my dad's footsteps playing offensive tackle," he wrote on both Facebook and Twitter on Monday evening.
Listed at 245 pounds in this year's media guide, the 6-foot-5 son of former NFL offensive lineman Dennis Smith (New York Jets and Washington Redskins) is up to 260 pounds and, with his big frame and ability to gain weight quickly, appears more suited for the line than tight end.
Though it remains to be seen whether his switch will pan out as well, Shelley-Smith's position change brings to mind thoughts of former Jayhawk Tanner Hawkinson, who entered the program as a tight end out of McPherson High and left as a highly decorated offensive lineman picked in the fifth round of the 2013 NFL Draft by the Cincinnati Bengals.
Hawkinson in 2008 entered the KU program at 6-5, 230 pounds, ranked as the third-best player in Kansas and 23rd-best tight end nationally. He currently is listed at 6-5, 300 and is about to begin his second season with the Bengals.
Shelley-Smith in 2012 came to Kansas at 6-5, 220, after earning first-team all-state honors during his senior season of high school. His life in football has included stints at every offensive position. In Pee Wee football, he played lineman. In middle school, he was a running back. In high school, he played tight end, wide receiver and even quarterback.
Shelley-Smith's move away from tight end leaves the Jayhawks with three eligible scholarship players at the position heading into the upcoming season. Senior Jimmay Mundine, who is almost fully recovered from a minor surgery to clean up his injured knee that was locking up on him, is the clear-cut starter, while senior Trent Smiley, a blocking tight end with game experience, and red-shirt freshman Ben Johnson, of Basehor-Linwood High, provide depth.
With Mundine and Smiley out of eligibility after this season, the future of the position rests with Johnson and former University of Florida tight end Kent Taylor, a 6-5, 230-pound athlete who transferred to KU this offseason. Taylor will red-shirt the 2014 season while sitting out in accordance with NCAA transfer rules.
Meanwhile, Shelley-Smith's addition to the offensive line gives Reagan and KU coach Charlie Weis another promising prospect with good athleticism and strength and the potential to add as much as 40 or 50 more pounds to his frame.
Tested in high school at 4.7 seconds in the 40-yard dash and 32 inches in the vertical-jump test, Shelley-Smith's move to the offensive line not only makes him an intriguing project but also backs up the words he uttered prior to signing with KU in 2012.
"Once I sign that paper, I'm theirs," he told the Journal-World in an interview prior to signing. "And they'll do what they think is best for me. I'm open to everything."