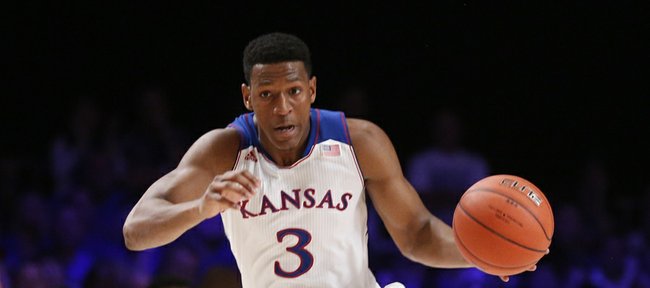 Nebraska basketball coach Tim Miles, who may lose junior standout Terran Petteway to the NBA after this season, thinks he has found a possible replacement in former Kansas University guard Andrew White III.
"I am really excited to add Andrew to our program. I believe he can be an impact guy for us. He has pro potential and reminds me of Paul Pierce," Miles, the 2014 Big Ten Coach of the Year, said Monday after White announced his plans to transfer to NU.
"Andrew has been involved in the elite levels of high school, AAU, and college basketball, and that will continue with the Huskers," Miles added.
White, a 6-foot-7, 220-pound junior-to-be from Richmond, Virginia, who also visited Maryland, Notre Dame and Richmond after announcing plans to leave KU last spring, already feels a connection with his new coach.
"I think this staff was the most personally invested in my success," said White, who was recruited by current NU assistant Kenya Hunter when Hunter was at Georgetown and White at Miller School in Chester, Virginia.
"There was a comfort level with the coaches and players, and I just think they believe in my ability to play ball."
White averaged 2.3 points and 1.2 rebounds a game in limited duty his sophomore season. He hit 44 percent of his shots. He hit three threes and scored 13 points in 14 minutes against Towson and had 12 (three threes) versus Louisiana Monroe.
"My main objective with this decision is to win, be a great teammate and good student, but I want to show people I am a very good player," White told the J-W. "I'm looking forward to putting myself in a situation where my team goes to the next level and so can I."
White's brother, Andrien, is an unranked 6-foot senior point guard at Thomas Dale High in Chester, Virginia, who will either land a mid-major or major-college offer this season.
"I've been working with him all summer," Andrew said. "Not being in summer school and being home gave me the ability to make most strides on the court and him also. I left school three months ago. I'm not the same player I was when I left Kansas. That's what I really embrace going into my next school. I have to sit out a year, which will be a big development year. I have the potential to do some really good things if I keep making the strides I have."
Of Andrien's situation, Andrew said, "The best opportunity for him to play and have a good career is for a school to want him by himself as opposed to us in a package. If Nebraska is interested in him, it'd be cool to have brothers at a school together," Andrew said.
As far as Andrew's playing time at Nebraska, it could open greatly if Petteway leaves. That, however, is not on White's mind.
"He's an anticipated draft pick after this coming year. Regardless if he stays or not, I spoke with them assuming he'd be there," White said. "Even if he is there, it's a position I'd be comfortable with. Nebraska doesn't use traditional bigs as far as size. They do a lot of four-out, one-in. I think it'd be a good mix to the system playing three big guards. That was one of the selling points if he does decide to stay."
More like this story on KUsports.com