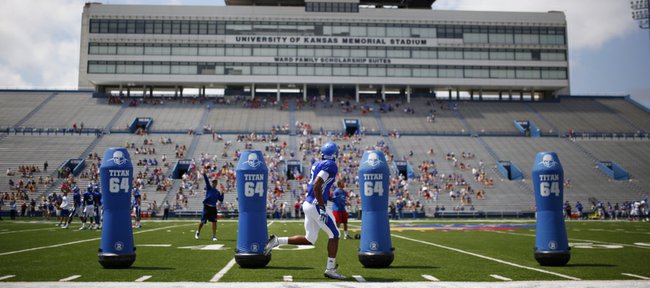 Photo Gallery
Kansas football Fan Appreciation Day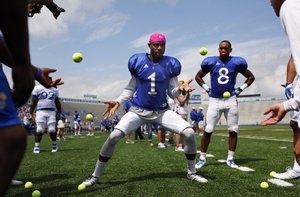 Images from Saturday's Fan Appreciation Day at Memorial Stadium
The 11th practice of Kansas University's preseason football camp featured a little different element than the 10 that came before it: fans.
Saturday was Fan Appreciation Day at Memorial Stadium, and despite an early threat of inclement weather, between 500 and 1,000 KU football supporters spread out on the west side of the stadium to take in a two-hour practice that featured several position drills, a little live offense and an extended look at special teams.
After the practice, several fans who stuck around until the end hit the new stadium's new turf and stood in line to get autographs from KU players and coaches.
The Jayhawks signed posters, footballs, hats, shirts and helmets, and many of them thanked those who came out not only for attending the open practice but also for their support of the program.
"We've been working hard in camp, and everybody just (wanted) to go out there and have fun," sophomore kicker Matthew Wyman said. "It's just fun. We like to be in front of fans. Everybody wants to sign an autograph. Who doesn't?"
Saturday's practice wrapped with the assistant coaches and support staff taking part in the ALS Ice Bucket Challenge at midfield. KU coach Charlie Weis took his turn with the ice-water exercise at the end of Friday's practice when Ben Heeney had the honor of dousing Weis with the cold water for charity. Saturday, 19 other players walked in Heeney's shoes and dumped Gatorade buckets of ice water on various staff members.
The Ice Bucket Challenge involves being called out by someone and then, in turn, challenging a few other people to follow suit to raise awareness of amyotrophic lateral sclerosis — also known as Lou Gehrig's disease. Weis extended the challenge to KU basketball coach Bill Self, former Texas coach Mack Brown and Weis' son, Charlie Jr., who did participate in the ceremony at midfield.
One-on-ones
One of the highlights of the open practice was the showdown between KU's revamped receiving corps and the experienced secondary. Although the wideouts got the better of the DBs this time, players from both sides turned in highlight-reel plays. Tony Pierson and Rodriguez Coleman each hauled in a couple of touchdowns, and cornerback Kevin Short showed his skills by getting physical and using his athleticism to break up passes.
Kicking battle
Wyman and freshman John Duvic added another chapter to the place-kicker showdown that has been ongoing throughout camp, and Saturday's round went to Duvic, who drilled six of the seven kicks he attempted during the field-goal portion of practice. His only miss came from 42 yards on the right hash.
Meanwhile, Wyman, who said prior to Saturday's practice that he had performed well during camp and felt much more confident and consistent, struggled, missing four straight field-goal attempts during the seven-kick stretch.
Weis has said from the beginning of camp that the two were in a close battle for the No. 1 job. Duvic has not yet been made available to the media, but Wyman said both kickers had put together solid camps so far.
"I like competition," he said. "I like to show myself and prove myself. I've just said, 'This is my job. I don't want to lose this job.' I haven't said, 'Oh, he's coming in...' I've just focused on being consistent.
"We're different kickers. Our approaches are different. But I think camp's gone very well for both of us."
Sunday scrimmage
The Jayhawks will hit the field today for their first significant scrimmage of preseason camp. The scrimmage is closed to the public and the media but figures to be important in shaping the depth chart.
Several spots are already locked in, but several more, like place kicker, remain hotly contested. The positions with the most competition appear to be: offensive line, running back and in the return game. Several of the best battles are not for the first-string spots but the second-team.
More like this story on KUsports.com