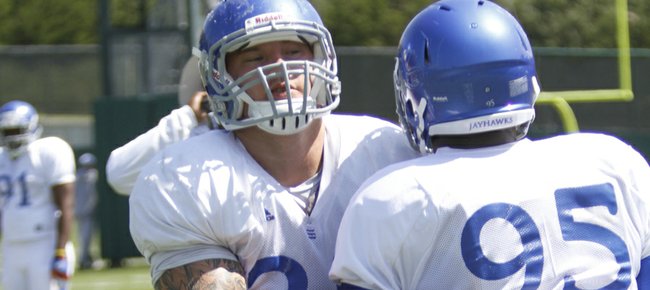 When T.J. Semke joined Kansas University's football program as a walk-on, coaches wanted to keep him around because of his speed and physical ability.
They had no idea at the time the Lee's Summit (Missouri) North product had the toughness and nerve of Dog the Bounty Hunter, the reality-television star Semke grew up watching.
Never one to follow the crowd, Semke came to KU as a student while many of his high school classmates enrolled at Missouri. Now a 6-foot-2, 265-pound junior defensive lineman on scholarship after bouncing around from position to position as a special-teams and show-team warrior in 2013, Semke spent some of his spare summer time as "extra muscle" for a bail bonds business.
An honor roll athlete majoring in health and physical education, Semke has witnessed grown men attempting to flee the scene when the bond agent (his mother's boyfriend) and his team showed up. If a target tries to make a getaway, it's Semke's job to catch him. The backup defensive tackle called such tasks an adrenaline rush.
"I guess you could say every time you go out there, there's always a little bit of danger," he admitted.
On the first job Semke went out on, the team encountered a man they later learned had been awake for two straight weeks.
"I couldn't imagine being up for 24 hours," Semke said.
The perp was "a little off his rocker" and hid upstairs when his hunters arrived, Semke said. Semke found a secluded stairway in the old house, raced up to the next floor and found the man trying to get out a window that opened to the roof.
"That was an exciting one," Semke said of the summer gig.
No one has yet escaped the KU tough man off the field. So how do quarterbacks compare to his offseason marks?
"The difference between a quarterback and a person you're trying to apprehend is, there's not a 300-plus pound guy in front of you trying to block you from getting him," Semke said.
Any offensive linemen standing in the junior's way will soon discover Semke is the strongest defensive lineman playing for the Jayhawks. Coach Charlie Weis said strength coach Scott Holsopple has a book full of weight-room statistics and information to back that up.
Through his dogged approach, Semke has earned the respect of not only the staff, but also his teammates, such as junior defensive tackle/workout partner Andrew Bolton — the man in front of him on KU's first depth chart. Weis said people shouldn't be surprised to see the newly appointed scholarship player on the field.
"If I were going into a fight somewhere," the third-year KU coach said, "if I were taking five players from this team to go with me, he'd be in that five for sure, OK. But all he's done is worked so hard that he's made everyone else better."
Semke knows his bail bonds stint earned him that particular praise, but he confirmed his coach's sentiment.
"I'd never back down from a fight," he said. "Never have, never will."
More like this story on KUsports.com