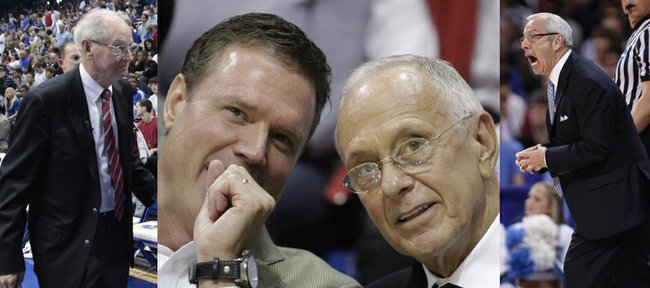 Former Kansas University basketball coaches Ted Owens, Larry Brown and Roy Williams will gather with current coach Bill Self on Oct. 27 on Allen Fieldhouse's James Naismith Court to share memories with fans as part of the program, "Celebrating 60 Years."
Ticket information will be released in early September.
The four coaches, who have guided the Jayhawks over the last 50 years, will enjoy a night speaking about KU basketball and the fieldhouse, which this season celebrates its 60th season.
Proceeds will go to Self's Assists Foundation as well as the other three coaches' favorite charities.
"Only at Kansas do we get to celebrate a milestone such as this, bringing four living legends together to honor our history and our legacy," KU athletic director Sheahon Zenger said.
Noted Self: "For 115 years, Kansas has been a standard of excellence for our sport. There aren't very many places — if any — where you can invite back the last four coaches who have led the program for the last 51 years to celebrate an anniversary like this one. This is such a special place. Kansas Athletics has really made this a unique event, using the money to benefit the charities that mean a lot to each of us. I know the fans will enjoy it and I will be honored to be a part of it."
Said Williams: "Sixty years in one phenomenal arena — wow! That has been the site of some unbelievable victories and accomplishments of one of the greatest home-court advantages in the history of college sports. The tradition of Kansas basketball is a tradition of success and Allen Fieldhouse has been a great part of that. The Jayhawk faithful make it almost impossible for the opponents every night. Coaching in that arena is a real treat and I loved it. I'm ecstatic to be part of this anniversary celebration."
Said Brown: "The years I spent at Kansas were an incredible time in my life that I will always cherish. The people I got to know, the players who were part of the program and the coaches who worked with me will always be a big part of my life. I am thrilled to be included in this celebration. I can't imagine a place being more special than Allen Fieldhouse. It was such a great opportunity to coach in that environment. And coming back to KU with Bill Self as the head coach always makes me smile after having the opportunity to coach alongside him."
And noted Owens: "I am honored to be a part of the Kansas basketball family. I really look forward to spending the time with these three men for whom I have the greatest respect. I also look forward to being back with our great Kansas fans."
More like this story on KUsports.com