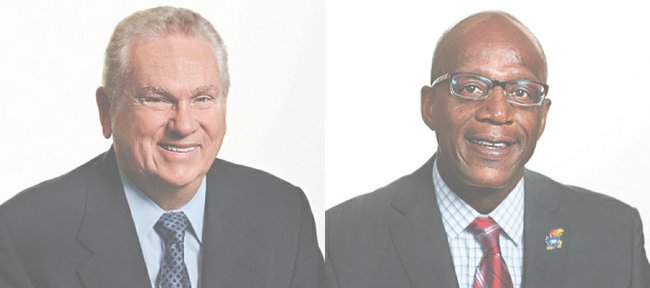 It didn't take the Kansas University football program's best recruiter, Reggie Mitchell, long to see how another member of Charlie Weis' staff could be used to open doors.
Mitchell and Dave Campo, former head coach of America's Team, were on a recruiting trip in the nation's capital a while back. A recruit's uncle owned a barber shop in Washington, D.C., 'Skins country. Word spread via text that the former head coach of the Dallas Cowboys was in the shop.
"It turned into a photo op," said Mitchell, recruiting coordinator/running backs coach. "People were coming in off the street, wanting to take pictures with him. And of course he had on a Super Bowl ring."
After the barber-shop stop, Mitchell teased Campo, associate head coach in charge of defensive backs.
"I told him, 'Dave, we didn't get anything done we wanted to get done.' I said, 'We're supposed to be talking to him over here, Dave, not them over there.' I just sat back and watched," Mitchell said.
During his days with the Cowboys, Campo developed relationships with high school coaches in the Dallas Metroplex and has strong name recognition with the parents of recruits. It comes in handy, adding to a staff loaded with coaches who have strong Texas recruiting ties.
"I like going back (to Dallas)," Campo said. "It was my home for so long."
During one spring visit to evaluate prospects at a high school, the coach stopped practice, pointed to Campo and asked his players, "You know who that is, right?"
Wrong.
"You were 2 years old when he was head coach of the Dallas Cowboys," the coach said.
Now they knew and won't forget.
Campo recently helped KU to score two significant Texas Class of 2015 commitments.
KU has proven it's possible to build a strong secondary primarily with junior-college talent. Michael Mathis comes to KU from Kilgore Junior College in Texas.
KU also shows how it's not possible to build a strong offensive line without building the base with high school talent. Aaron Garza, a high school offensive lineman from Sherman, Texas, backed out of his commitment to Texas when Mack Brown was fired, and Campo scooped him up.
Mitchell credits head coach Charlie Weis with KU's shift to what he calls "group recruiting." The assistant in charge of a specific geographic area makes the initial contact, and the position coach joins the recruitment for the next visit.
"If I'm recruiting a defensive lineman, I'll make the initial contact, and then Buddy (Wyatt) will come in," Mitchell said. "When you're recruiting kids by position, the position coach is the one that will spend more time with them. When I'm recruiting a running back, I'll tell him, 'If you don't like me, if you're not comfortable with me, you probably shouldn't come here, because what you see is what you get.'"
What you see is what you get with Campo. He made it all the way to the top of the coaching profession as head coach of football's most famous franchise. Even then, what he enjoyed most was teaching young athletes how to become better football players. It appears Mitchell, Campo and the rest of the staff have recruiting heading in a positive direction.