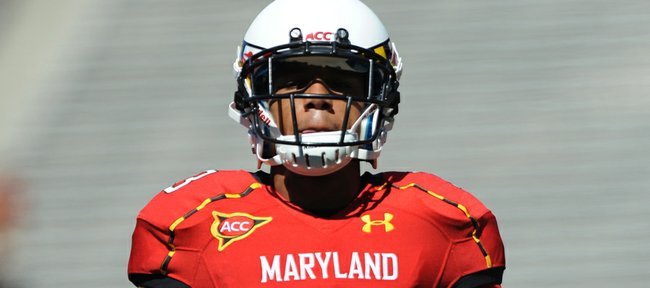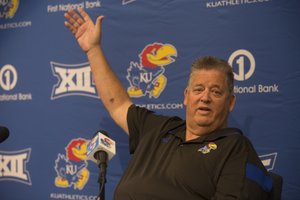 Kansas University's wide-receiver corps added 24 Div. I appearances, 575 career yards and five touchdowns to the mix on Thursday.
Nigel King, a 6-foot-3, 210-pound recent graduate of the University of Maryland, arrived in Lawrence this week and officially became a member of the KU roster early Thursday morning.
By the time KU coach Charlie Weis kicked off his opening news conference of fall camp, King had signed his paperwork, met the coaches and been added to the roster.
"Obviously, we're excited that he's here," offensive coordinator John Reagan said. "He's coming from a program where they've had some success, and he's had some."
King, a junior, graduated from Maryland a week ago today and is eligible to play immediately because of the graduate transfer rule. He red-shirted the 2011 season, played in all 24 games in 2012 and 2013 and finished classes this summer.
"This all happened fast now," Weis said. "All of a sudden, the kid's on the street, and we had an opening on the perceived two-deep, and a guy like that, he's looking for somewhere he thinks he has a chance of playing. He looks good on tape, but I'd prefer to just go by what we see from here."
King, who will wear jersey No. 9, opens camp with the second unit behind senior Tony Pierson on the depth chart. There are plenty of people, however, who believe he could move up quickly because of the two biggest assets he brings to the program.
"Experience and production," Weis said. "The guy's produced, made plays and scored touchdowns. It'd be nice to have some receivers scoring some touchdowns."
The wide-receiver position has underperformed drastically during the past couple of seasons, most famously in 2012, when the Jayhawks went the entire season without a touchdown reception by a receiver.
However, with the addition of new receivers coach Eric Kiesau in the offseason, the eligibility of senior Nick Harwell and addition of King, the position appears to be trending up and could be regarded as a sleeper unit on this year's squad.
"When you get Tony (Pierson) and Nigel and Nick and Tre' (Parmalee) and Justin (McCay) and (Rodriguez) Coleman, before you even get to the other guys, you're putting six receivers out there that you feel can all play and can all win for you in the Big 12," Weis said.
Fondal gone
The omission of senior offensive lineman Zach Fondal was the most notable absence on KU's most recent roster. Weis said early during his news conference that he would not talk about guys no longer on the roster and clarified that if they weren't on the roster, they weren't on the team.
Fondal, a 2013 transfer from Navarro College, started three games at right tackle for KU last season. He was projected to compete for a spot in the rotation at tackle this season but has been replaced by returners Damon Martin and Pat Lewandowski and newcomers Larry Mazyck and Devon Williams on the depth chart.
Another notable absence on the roster was walk-on quarterback Frank Seurer Jr., the son of former KU quarterback Frank Seurer, who ranks second on KU's all-time passing list with 6,410 yards.
Position changes
There was not much movement from position to position in the offseason, but a few shifts surfaced Thursday.
Red-shirt freshman Colin Spencer is listed as a second-team defensive back behind Greg Allen at nickel, and sophomore Brian Beckmann has moved from tackle to guard, where he is listed with the second unit behind senior Mike Smithburg.
Weis said Spencer was moved from wide receiver to provide him a better chance to get on the field. Beckmann worked at tackle and guard during spring practices and slid inside to allow room for junior-college transfer Williams at tackle.
"We felt that he's clearly better than the other (guards) enough to be in the two-deep," Weis said of Beckmann. "And I want to get those big guys (Williams and Iowa Western transfer Mazyck) as many reps to see where we are early in the year."
Semke on scholarship
Junior defensive tackle T.J. Semke, the player whom Weis said Thursday morning easily would be one of the five guys on the team he would take into a fight with him, earned a scholarship at Thursday's team meeting.
"All he's done is worked so hard that he's made everyone else better," Weis said.
The 6-2, 265-pound native of Lee's Summit, Missouri, opens fall camp competing with sophomore Tyler Holmes to be the back-up to junior Andrew Bolton.
All aboard
All but two players expected to be in camp reported to campus Thursday and will be ready to start practicing today.
Weis said juco transfer Damani Mosby was ready to go and was waiting on his grades to be finalized, and Josh Ehambe, a graduate of Prime Prep Academy, was still waiting on word from the NCAA regarding the eligibility of all Prime Prep athletes.
Camp battles
Several of KU's most important positions already are spoken for, but there are a couple of interesting battles brewing.
One is at back-up quarterback, where Michael Cummings' experience gives him a slight lead over sophomore transfer T.J. Millweard.
The other is at place kicker, where incumbent Matthew Wyman will battle with incoming freshman John Duvic during the next few weeks.
"Now, he has a pro leg, so he has every ability to be a front-line field goal kicker," Weis said of Wyman. "His whole summer was spent on being more dependable and being more accurate. With John Duvic coming in, he's going to have his work cut out, because the one thing is, he is accurate. Let's see what he does when there's 50,000 people in the stadium, though, too."
More like this story on KUsports.com