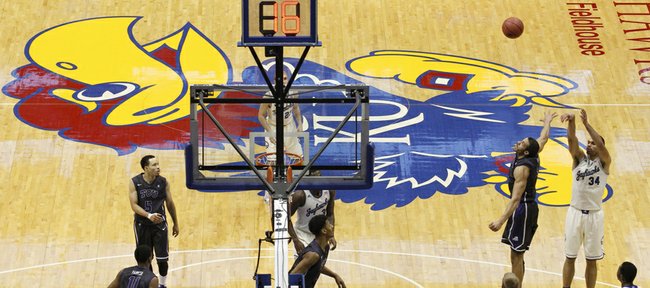 Allen Fieldhouse will have a shiny, new basketball floor for its 60th anniversary season.
Workers started the process of sanding, sealing, painting and buffing KU's playing surface on July 29 with the court to be available for men's and women's practices around Labor Day (Sept. 1).
"It's almost the exact same except the Big 12 logo will be placed in the lane and it'll have the new (logo) design," said Brad Nachtigal, KU's associate athletic director for facilities, operations and capital projects.
The league's new logo will be placed underneath the foul lines as mandated by the Big 12 Conference. The old logo was inside the three-point line on the northwest and southeast portions of the court.
"Every Big 12 school has the same placement of the logo on the basketball court, football field, volleyball soccer, everything," Nachtigal said.
As far as progress regarding the project, the court currently is ready for artwork to be added.
"It's been at least three years since they sanded it all down. We sanded the entire court back down to bare wood," Nachtigal said. "This weekend they will come and start with the artwork. It'll take about a week to do the painting. They'll put coats of finish over the top and it'll have to dry for about 14 days after that."
Recruiting: Miles Bridges, a 6-foot-6 junior small forward from Huntington Prep in West Virginia, tells Zagsblog.com he is planning visits to KU, Oregon and Kentucky. Bridges, who is ranked No. 19 in the Class of 2016 by Rivals.com, also is considering Michigan, Michigan State, Missouri, Iowa State, Iowa, Ohio State, Indiana, UNLV, Providence, North Carolina State, Pittsburgh and West Virginia. He's originally from Flint, Michigan.
"I'm just trying to win really. Just trying to win a national championship and make the team better," Bridges said, referring to his upcoming college career.
Mickelson scores 15 in finale: KU junior forward Hunter Mickelson scored 15 points, grabbed 10 rebounds and dished two assists while playing 26 minutes in USA East Coast's 90-72 loss to the Helsinki (Finland) Seagulls on Thursday in Finland. The 6-foot-10 Mickelson averaged 8.3 points and 6.3 rebounds for USA East Coast, which went 2-2 on its overseas trip.
Lucas watches Svi: KU sophomore forward Landen Lucas, who is overseas with an Athletes in Action all-star team, tweeted that he watched the Ukrainian national team practice on Friday in Lithuania.
"Just got back from watching the new member of the KU 'fams' team play out here (No idea how to spell or say his name)," Lucas wrote, referring to Sviatoslav Mykhailiuk.
More like this story on KUsports.com