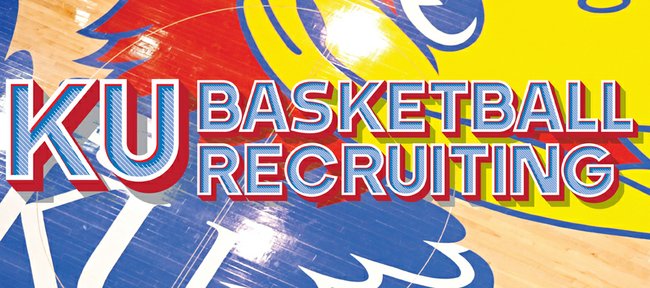 Kansas University basketball coach Bill Self isn't finished pursuing players in the incoming Class of 2014.
The Jayhawks — who still have one scholarship available in recruiting — this weekend are scheduled to host Ray Kasongo, a 6-foot-9, 230-pound power forward from Scarborough, Canada, who recently was denied admission to Oregon, but is said to be academically eligible to play in 2014-15.
Kasongo tells Zagsblog.com he also is considering California and Memphis and is planning on visiting those schools next week.
"I'm supposed to go there (KU) this Friday and visit with my parents," Kasongo told Zagsblog.com on Tuesday. "Making it to the NBA is a big goal for me and they send a lot of bigs out there. I'm looking forward to visiting the school this weekend."
Kasongo, a three-star prospect who is not ranked by Rivals.com, last October chose Oregon over UConn, LSU, DePaul, USC, Florida State and others. He was viewed as a possible starter at Oregon this season.
"It's unfortunate. I was really looking forward to going to Oregon but the administration denied my application there. I'm not really too sure (why)," Kasongo told Zagsblog.com.
He made a name for himself last summer when he scored 24 points with 15 rebounds and seven blocks in a game in Las Vegas against a team that included KU's Cliff Alexander and Duke's Jahlil Okafor.
Kasongo, who is a buddy of former KU player/fellow Canadian Andrew Wiggins, played for AAU program Grassroots Canada and models his game after Amar'e Stoudemire.
"I love his game," Kasongo said.
Kasongo is known for his athleticism.
"If he gets the right culture and the right development, the sky's the limit for this guy, I'm telling you," Michael Duncan, the director of Ohio Basketball Club, Kasongo's former AAU team, told Zagsblog.com.
"He runs the floor like a deer, jumps out the gym crazy. When he came he was just raw. He's gotta develop some post moves, gotta get a go-to move. If he ever gets the right coaching, it's a wrap. He's gonna be unbelievable. He's just so super-strong and athletic."
If he is deemed eligible by the NCAA clearinghouse, Kasongo would be able to play this upcoming season.
KU's incoming recruiting class consists of power forward Alexander and guards Kelly Oubre, Devonté Graham and Sviatoslav Mykhailiuk. The frontcourt players on the roster: Alexander, Perry Ellis, Jamari Traylor, Landen Lucas and Hunter Mickelson.
Mickelson scores six: KU junior power forward Mickelson scored six points, grabbed eight rebounds and had one block in USA East Coast's 90-83 win over Austria on Friday in a Tallinn Cup game in Estonia. Mickelson battled foul trouble while playing 18 minutes. B.J. Johnson had 20 points, while Dusty Hannahs and Tyler Roberson had 16 apiece for the U.S., which will play host Estonia Wednesday.
Svi credits teammates: KU frosh Mykhailiuk commented on his being named MVP at the Under 18 European Championships Div. B Tournament in a Facebook chat with the Journal-World on Tuesday.
"I feel great. I didn't expect that I would be MVP, but this is all about the team," said the 6-8 Mykhailiuk, whose Ukraine team placed second overall. "I think everybody can become MVP on my team. But we have what we have."
Mykhailiuk said he is currently working out with Ukraine's Senior National team, which will play in the World Cup, set for Aug. 30 to Sept. 14 in Spain.
"I am in Lithuania. It (arrival date at KU) depends on the national team," Mykhailiuk noted.
If he doesn't make the team, he'll likely be on KU's campus later this month or early September.
Orlando schedule: KU will meet Rhode Island at 1 p.m. CST on Thanksgiving Day (Nov. 27) in the 2014 Orlando Classic, held at HP Field House in ESPN Wide World of Sports Complex at Walt Disney World in Orlando, Florida. The game will be broadcast on ESPN2.
If KU wins, it would meet either Santa Clara or Tennessee at 1:30 p.m. Nov. 28 on ESPNU. The finals are either noon or 3 p.m. on Nov. 30 on ESPN2.
Teams on the other side of the bracket include Georgia Tech, Marquette, Michigan State and Rider. In a non-bracketed game that is also part of the 2014 Orlando Classic, on Monday, Nov. 24, Kansas will host Rider at 7 p.m. in Allen Fieldhouse. Elsewhere, Santa Clara will be at Michigan State.
"It's a great field and this will be a good early-season test for us," KU coach Bill Self said. "From what we understand, this is always a first-class event and our players will look forward to participating."
Kansas leads the series with Rhode Island, 2-1, with its last meeting a KU 80-69 win on Dec. 30, 2006, in Allen Fieldhouse. The Rams defeated the Jayhawks, 80-75, in the 1998 NCAA Tournament Midwest Regional in Oklahoma City, and KU won the other meeting, 73-60, on Dec. 29, 1993, in Kansas City, Missouri.
More like this story on KUsports.com