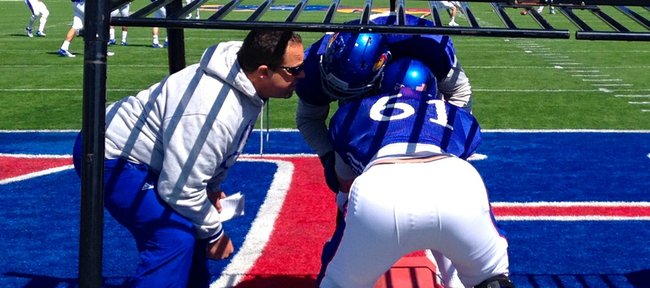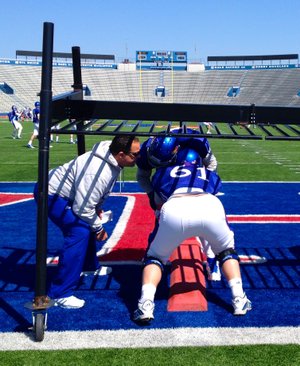 For the past few months, people within Kansas University's football program have gushed about why hiring John Reagan as the team's new offensive-line coach and offensive coordinator was going to make a big difference.
This spring, I got to see what they were talking about.
To say I was impressed by what I saw from Reagan during the 90 minutes of one spring practice open to the media would be putting it mildly. I was blown away.
My plan for my time inside the gates that day was to make the rounds to every position and get a little bit here, a little bit more there and come away with a pretty solid and comprehensive understanding of KU coach Charlie Weis' third KU team as a whole. I did that as best I could, but the offensive-line station dominated my time way more than I expected.
And that was because of Reagan.
Before you assume my attention was captured because Reagan was a ranting and raving lunatic and the decibel level coming from the O-line station caught my ear, I should explain that Reagan's demeanor was one of the most impressive parts about his coaching style.
Don't get me wrong: I'm sure the guy can and does go off when he needs to, but based on what I witnessed, he's much more interested in coaching, teaching and connecting with his players than he is screaming at them.
Reagan's instructions were incredibly detailed and direct, leaving nothing to interpretation or second-guessing. Simply put, if linemen heard him say "quick feet," "extend your arms," "finish the block up through the body" or any other set of instructions, they needed little time to process what he meant. During those rare times when they were slow to pick up his initial instructions, Reagan had that covered by standing within arm's length of every player during every drill. He moved with them, often sticking his nose within inches of their helmets to make sure they heard his instructions and make sure he saw exactly what they were doing.
Every lineman, from the most experienced to the greenest, received a great deal of individual attention, and, when needed, Reagan, a former offensive lineman himself, dropped down and showed these guys exactly what he wanted them to do.
At one point, when the group was working under the 5-foot-tall metal chute utilized to emphasize good pad level, Reagan hopped under there with them and, rep after rep, put himself through some of the physically demanding tasks he was asking his players to endure.
Simply put, Reagan truly seems to care that these guys are learning and improving, and his coaching style makes it so that they cannot get away with bad reps. Provided the techniques are sound, such an approach should go a long way toward making things more interesting on Saturdays.
Reagan's not a miracle worker. It's not as if he could take someone like Tony Pierson and turn him into a left tackle. But he works well with guys who were born to play their position, and his track record speaks for itself. He's produced everywhere he has worked and has a great reputation among his peers. What's more, he has said from the minute he accepted the job to come back to Kansas that he thought the pieces were in place for KU to field a competitive offensive line immediately.
None of that will matter, of course, if the guys Reagan is coaching don't deliver this fall. But his presence as the leader of the Jayhawks' most unproven unit should at least give them a fighting chance.
More like this story on KUsports.com