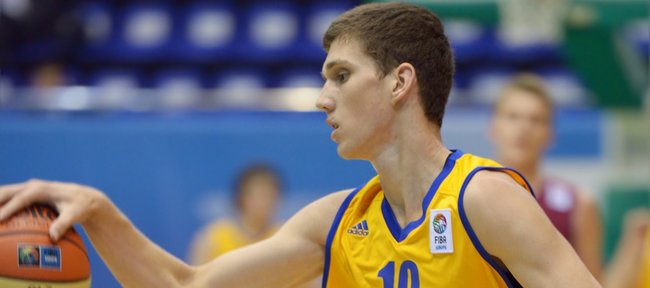 Basketball notebook. ...
Incoming Kansas University freshman Sviatoslav Mykhailiuk scored 22 points off 8-of-18 shooting to lead Ukraine to a 65-64 victory over Finland in Saturday's semifinals of the Under-18 European Championship Div. B tournament in Sofia, Bulgaria.
The 6-foot-8 shooting guard hit two of six three-pointers and four of six free throws. He had 10 rebounds, two assists, two steals and four turnovers in 29 minutes.
Ukraine today will play Germany, a 64-59 semifinal winner over Sweden, in the finals.
Mykhailiuk has averaged 17.0 points off 42.1 percent shooting (13 of 47 threes for 27.7 percent) and 4.8 rebounds per game for (7-1) Ukraine. He's made 35 of 67 two-point shot attempts for 52.2 percent. He's also canned 27 of 36 free throws for 75 percent.
Ingram to attend Late Night: Brandon Ingram, a 6-8 senior small forward from Kinston (N.C.) High, will make a recruiting visit to KU for the Oct. 10 Late Night in the Phog.
Ingram, who is ranked No. 25 nationally in the Class of 2015, tells JayhawkSlant.com he will also visit UCLA (Aug. 5) and Duke (Aug. 7-9).
Ingram is also considering Clemson, Florida, Kentucky, Louisville, Minnesota, North Carolina, N.C. State, UCLA, Virginia Tech, Wake Forest and others.
Also visiting KU for Late Night: No. 7-ranked Stephen Zimmerman, 7-foot senior center from Bishop Gorman High in Las Vegas and No. 9-ranked Carlton Bragg, 6-9 senior forward from Villa Angela St. Joseph High in Cleveland.
Brown update: Jaylen Brown, a 6-7 small forward from Wheeler High in Marietta, Georgia, tells NBCsports.com he plans on taking an unofficial visit to UCLA during a break in the action at the adidas Nations event, which started Friday and runs through Monday at Long Beach City College in Garden Grove, California.
The No. 3-ranked Brown is considering UCLA, Kansas, Kentucky, Duke, Florida, Ohio State, Texas A&M;, Georgia, Georgia Tech and others.
Jeter update: Rivals.com's Eric Bossi reports that Chase Jeter is down to four schools — Duke, UNLV, UCLA and Arizona — heading into Monday's announcement of his college choice (6 p.m., ESPNU).
KU and Oregon earlier had also been listed as finalists for the 6-10 senior from Las Vegas' Bishop Gorman High. He's ranked No. 8 nationally by Rivals.com.
"I made my decision last week," Jeter told analyst Scott Phillips of NBCsports.com. "I'm 100 percent positive in my decision and I feel comfortable. I talked about it with my family. They said I should go wherever I feel most comfortable and that's what I did."
As far as Duke ... the Blue Devils' entire staff watched Jeter play in his final AAU game last week in Las Vegas. Also, he's made one official visit — to Duke.
Wiggins deal imminent?: The NBA's online store has discontinued the sale of Andrew Wiggins' Cleveland Cavaliers' jersey, leading to speculation that the former KU standout indeed will soon be traded from the Cavs to Minnesota (for Kevin Love).
NBCsports.com's ProBasketballTalk reports that the jerseys of other top draft picks — Joel Embiid, Julius Randle and Dante Exum — remain on sale.
ProBasketballTalk's Brett Pollakoff writes: "It could be that the league doesn't want to be stuck having to deal with a bunch of refunds for sold jerseys that may become obsolete before they can be printed, and is taking the more cautious approach. But whether Wiggins ends up staying with the Cavaliers or leaving in trade before the season begins, fans will have to wait a while before they're able to purchase one of his jerseys."
More like this story on KUsports.com