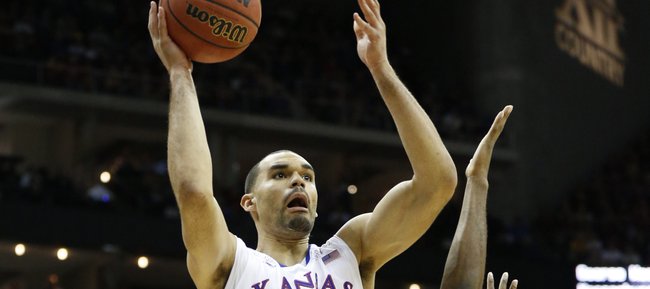 Basketball notebook. ...
Kansas University junior forward Perry Ellis and freshman guard Kelly Oubre are working as college counselors at the fifth-annual adidas Nations event Friday through Monday in Los Angeles.
Teams representing Africa, Asia, Canada and Latin America are competing against American high school players in the Classes of 2015 and '16 with some players in the Classes of 2017 and '18 attending as well.
Other college counselors, who play pick-up games and compete in drills during breaks in the action, are: Bryce Alford, UCLA; Beejay Anya, North Carolina State; Jabari Bird, California; Jonah Bolden, UCLA; A.J. English, Iona; Shaq Goodwin, Memphis; Josh Gray, LSU; Montrezl Harrell, Louisville; Zak Irvin, Michigan; Stanley Johnson, Arizona; Chris Jones, Louisville; Frank Kaminsky, Wisconsin; Shawn Long, Louisiana; Kevon Looney, UCLA; E.C. Matthews, Rhode Island; Jordan Mathews, California; Austin Nichols, Memphis; Landry Nnoko, Clemson; Tony Parker, UCLA; Terran Petteway, Nebraska; Norman Powell, UCLA; Terry Rozier, Louisville; Shavon Shields, Nebraska; Kaleb Tarczewski, Arizona; Brad Waldow, St. Mary's and Derrick Walton, Michigan.
Oubre won't be playing in pick-up games as he continues to recover from a sprained ankle that has had him in a walking boot the past few weeks.
As far as Ellis ... "Perry Ellis has also stood out. So smooth and polished offensively. A very tough cover," tweeted Yannis Koutroupis, managing site editor for Basketball Insiders.
Jeter to announce Monday: Chase Jeter, a 6-foot-10 senior center from Las Vegas' Bishop Gorman High, will announce his college choice during ESPNU's adidas Nations telecast at 6 p.m. Monday.
Duke is considered the likely choice of Rivals.com's No. 8-rated player. He also lists KU, Arizona, Oregon, UCLA and UNLV as finalists. Jeter's father, Chris, was on UNLV's 1990 national championship team.
Jeter visited Duke March 8 for the North Carolina game. He has not visited KU.
"I think the biggest contenders it's really coming down to are UCLA, Duke, Arizona, and UNLV," Jeter told Rivals.com on July 24. "I just feel like I've taken my time with the process and I've had the chance to visit all those schools and now it just comes down to where I feel most comfortable."
As far as report that Duke is his likely choice, he told Rivals.com: "I really do consider the other options. I've made it clear that Duke was one of my favorites, but I also made it clear that Arizona was one of my favorites as well as the other schools. So I mean I like all the schools, but the thing with Duke is that it's just so far away from home. I've grown up on the West Coast my whole life."
Kasongo available: Ray Kasongo, a 6-9, 230-pound forward from Faith Christian School in Mesa, Arizona, has been denied admission to Oregon. ESPN reports that incoming freshman Kasongo, an unranked three-star player, didn't meet the school's academic standard for admission. Zagsblog.com reports that Kasongo, who is originally from Toronto, has qualified academically and is considering Cal, Florida and Memphis. One recruiting service says KU is on his list of schools.
Herard nets offer: KU has extended a scholarship offer to Schnider Herard, a 6-10, 255-pound junior forward from Prestonwood Christian Academy in Plano, Texas, JayhawkSlant.com reports. The No. 77-ranked player in the Class of 2016 also has received offers from UConn, Kansas State, Mississippi State, Nebraska, North Texas, Oklahoma, SMU, TCU, Texas, Texas A&M;, Texas Tech and others.
More like this story on KUsports.com