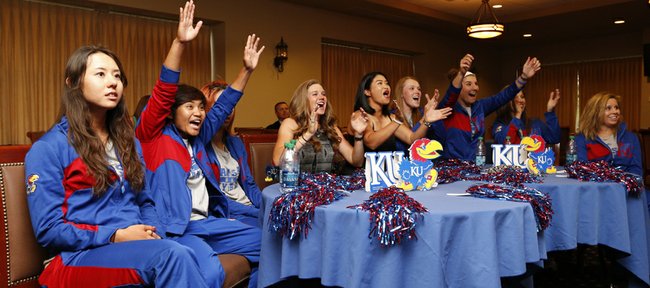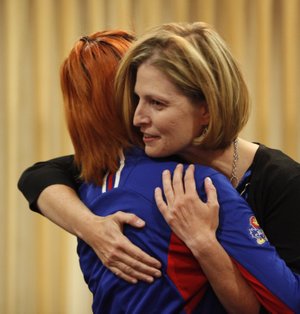 Kansas University's women's golfers are headed to the NCAA Tournament for the first time since the organization went to a 72-team three-regional format during the 1992-93 school year.
The Jayhawks clapped wildly in the Naismith Room of Allen Fieldhouse — their reactions shown on the Golf Channel — as they were awarded a No. 14 (of 24 teams) seed in the Central Regional, which will be played May 8-10 at Karsten Creek Golf Club in Stillwater, Okla.
Eight teams and two individuals advance from each regional to the NCAA Tourney, set for May 20-23 in Tulsa, Okla.
"They just really made up their mind to do it," said 10th-year coach Erin O'Neil. "They worked hard day in and out. They really believed in themselves. They owned it. It wasn't my dream. It was their dream."
The Jayhawks are coming off a fourth-place finish at last weekend's Big 12 meet in Austin, Texas. It was KU's best finish in the 18-year history of the conference and its best finish in a conference championship since it placed third in the 1992 Big Eight tourney.
Yupaporn "Mook" Kawinpakorn tied for second in a school-record low 54-hole score of 5-under 211.
"It's fantastic. It's amazing. It's the first time for us and for me, too," said Kawinpakorn, a sophomore from Thailand. "I think we've been ready for this. We believe in ourselves. We work hard. Golf ... you hit the little white ball, it's hard to predict sometimes, but finally we did it together."
Seniors Thanuttra "Fhong" Boonraksasat and Meghan Potee placed 33rd and 35th respective at Big 12s.
"We thought we were going to go last year maybe even possibly the year before, but this is crazy. We are making history," said Potee, a native of Noblesville, Ind. "It feels so good our senior year going out. Fhong and I are excited. The whole team is just pumped. Everybody is thrilled.
"Hopefully we can make it to nationals. If we play as well as we all can, I think it'd be just crazy and cool to go. Just making more school history would be awesome," Potee added.
The Jayhawks did reach the NCAA Tournament with an automatic bid back in 1990 for the only time in history after winning the Big Eight Conference.
"Our job is not done yet. We just have to practice and keep everything on track and stay focused. It's not done yet. Keep going," said Kawinpakorn.
KU's lineup also includes junior Minami Levonowich and freshman Pornvipa Sakdee, who tied for 26th at Big 12. Other Big 12 teams in the field: Oklahoma, Oklahoma State, Iowa State, Baylor and Texas.
"I'm just going to tell them to go out there and play the golf course and not worry about what other people are doing. Just focus on what we can control," said O'Neil, who was not surprised by a No. 14 seed or KU's placement in the Central Region. "We can't control what other people are doing. Go see what happens."
Monday's Selection Show turned into a party in which some members of the athletic department celebrated with the players, who dined on a special cake.
"I'm really proud of the young ladies and the coaching staff," AD Sheahon Zenger said, shaking hands with each of the players and coaches, telling them to "enjoy" their experience at nationals. "These were the goals we talked about three years ago and they have certainly moved the bar higher and we couldn't be prouder of them."
For a list of all 72 teams and regional assignments, click here.