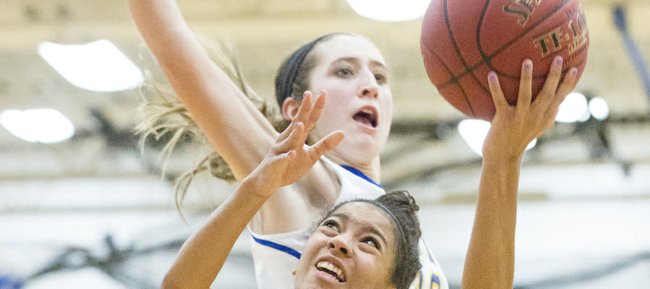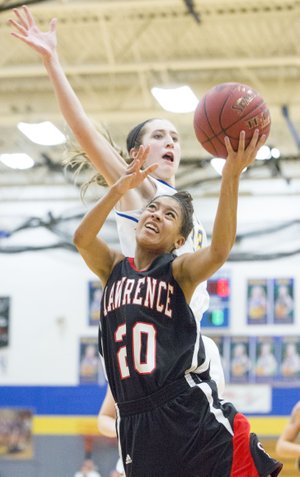 The MVP of Kansas' Sunflower League is headed to Kansas University on a women's basketball scholarship.
Kylee Kopatich, a 5-foot-10 junior point guard, who averaged 12.2 points, 6.3 assists and 3.1 steals a game this past season for Class 6A third-place finisher Olathe South, orally committed to Bonnie Henrickson's KU program on Sunday and announced the commitment Monday.
She initially had committed to Kansas State but made other plans following the removal of Deb Patterson as coach.
"I am in love with the (KU) program. I love all the coaches. I love how Bonnie has a caring kind of feel. She is not only a coach but feels like a second mom pushing us to be our very best," said Kopatich, who led the Sunflower League in assists and ranked second in steals. She is a finalist for the DiRenna Award, which is given to the top player in the Kansas City metro area.
"I've always been a KU fan since I was little. I am overly excited," Kopatich added.
Kopatich has closely followed the KU career of Olathe South graduate Natalie Knight, who will be a senior this season.
"Since I could never play with Natalie I love to watch her," Kopatich said. "I was always just one year behind her. I would love to play with her. It's so sad," Kopatich added with a laugh.
"She is a pretty big deal at our school. She is on all the records we have, records that seem impossible to beat or impossible to get. She is someone I have always looked up to and always wanted to play like her. She is an amazing player."
Kopatich ranks fourth on South's all-time assist chart and is third all-time in steals. She had three games last year with 10 or more assists.
Of her decision to remove her commitment from K-State, she said: "Why I chose K-State first is I could get coached by three amazing guards that went to K-State (on Patterson's staff). After they left it was KU. Since those three coaches are gone, it was an obvious choice."
Bonnie lands juco guard: KU on Monday announced the signing of Timeka O'Neal, a 5-foot-4 sophomore point guard from Johnson County Community College. She played high school ball at Raytown (Mo.) High.
O'Neal averaged 11.7 points, 5.1 assists and 3.8 rebounds this past season and earned NJCAA Div. II third-team All-America honors.
"She's a young lady who has great court vision, facilitates and handles the ball well," Henrickson said. "She can play in transition, she can shoot the ball well and stretch the defense from the three. Timeka can make the simple plays, but she can also make a difficult play look easy."
O'Neal led the Cavaliers to a 60-4 record over her two-year career and two conference championships. She's ranked seventh on JCCC's all-time assists chart with 284, 11th all-time with 105 threes and tied for fourth all-time with a 79.6 career free-throw percentage. O'Neal totaled 695 career points for a career average of 11.2 points per game.
"Timeka is from the Kansas City Metro Area and grew up playing basketball with Natalie (Knight) and (incoming KU recruit) Chayla Cheadle," Henrickson said. "She's a local kid that can help us be successful here. We are excited about that aspect of her signing and staying close to home."
Turner update: Myles Turner, a 6-foot-11 senior center from Trinity High in Euless, Texas, who had an in-home visit with KU coach Bill Self on Sunday, has visits scheduled with Duke, Texas, Texas A&M; and Oklahoma State this week, according to zagsblog.com. Rivals.com's No. 6-rated player also has SMU and Ohio State on his list. Turner will announce his college choice on April 30 on ESPNU.
In-homes as reported by Rivals.com: Self on Monday was to visit with Justin Simon, a 6-4 junior shooting guard from Temecula (Calif.) Valley High. He is ranked No. 23 in the recruiting Class of 2015. Self today will meet with Jaylen Brown, a 6-7 junior forward from Wheeler High in Marietta, Ga., who is ranked No. 11 in the Class of 2015. On Wednesday, Self will stop by Las Vegas' Bishop Gorman High to watch Stephen Zimmerman, a 7-foot junior who is ranked No. 4 in the Class of 2015.
More like this story on KUsports.com