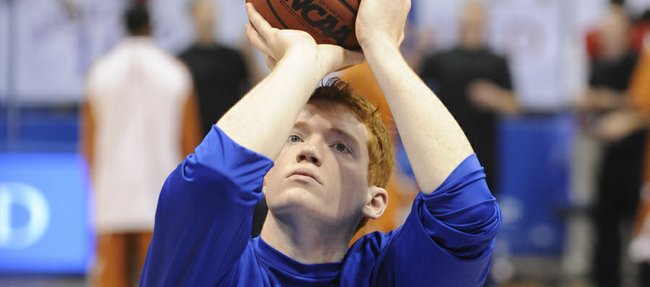 Former Kansas University basketball center Matt Kleinmann used to stay awake for as many as 72 hours at a time preparing class projects in his chosen field of architecture.
Just a few years removed from his own 2009 graduation day, the 6-foot-10 Kleinmann now watches in amazement as his own students at KU show the same determination in the classroom.
Yes, Kleinmann, who traveled the world while attending graduate school at Washington University in St. Louis — he stood on the Great Wall of China as the Jayhawks tipped it up in the 2010 NCAA Tournament — then worked three years as an architect for Helix Architecture and Design in Kansas City, is completing his first year as an adjunct professor of architecture at KU.
"When I was in school, it was hard to manage basketball and architecture at the same time. For me, I'm impressed by my students. They are managing their academics and have jobs, sometimes they have children," Kleinmann said. "I had it easy. I had a real good advocate with coach (Bill) Self stressing academics first. Now on the other end of it, it's learning about how to be flexible and keep guys motivated and keep working hard."
Kleinmann, who was a guest instructor in architecture classes from time to time while working at Helix, received a job offer at KU for this school year.
"When I was at KU, teaching was something that was very much devoted toward its own endeavor. When I was at Washington in St. Louis, teaching was a concurrent thing for a lot of faculty ... being able to work summers or on weekends and evenings and actually have a business. I was kind of surprised by that," noted Kleinmann, who is about to launch his own videography company that is focused on storytelling with architectural projects in mind.
"I'm early in my career. There's a lot of opportunity," Kleinmann added. "There's a lot of new ideas emerging about how design and education work. I think it's an exciting place for me to be at now. I get a chance to explore issues I'm interested in."
In his Designing Sustainable Futures course, students are faced with the task of "developing a community-based approach to grassroots tactical urbanism as a model for sustainability."
As such, Better Block Lawrence is an event that supports local redevelopment efforts along Ninth Street, between Connecticut and New Jersey streets.
Kleinmann indicated the class has the blessing of the Lawrence Arts Center, the East Lawrence Neighborhood Association and a number of grassroots arts groups and individuals. A rally that will include artists, music and food will be held 6-10 p.m. Friday, with further information available at http://ljw.bz/1gMbpt1 and http://ljw.bz/1njjtZF
"We're trying to give back and sort of work with communities and neighborhood associations and look at ways of design the university can affect the community in a positive way," Kleinmann said.
He has been able to keep ties with KU athletics. He attended several basketball games this past season with his fiancee and watched KU's individual workouts last week.
"It's been a great experience to come full-circle," Kleinmann said. "I've been able to help out a little bit with the K-Club board. I've run into coach (Self) a couple times. I got to watch individuals the other day. I talked to Russell (Robinson) and Mario (Little). Watching the individuals, it reminds me how far I'm removed from it. It's been five years now. It seems like five decades sometimes."
Self visits Turner: Self on Sunday visited Myles Turner, a 6-foot-11 senior center from Trinity High in Euless, Texas, who is ranked No. 6 nationally by Rivals.com. Turner's dad, David, told jayhawkslant.com the visit was "great" and praised Self and assistant Norm Roberts, who made the in-home. Turner will choose between KU, Texas, SMU, Duke, Ohio State, Oklahoma State and Texas A&M; on April 30 on ESPNU. ... Devonte Graham, a 6-2 senior from Brewster Academy in New Hampshire, completed his campus visit to KU on Sunday. After returning home, Graham tweeted: "Had a great visit at KU .. Happy to be home now ! Happy Easter Everyone."
More like this story on KUsports.com