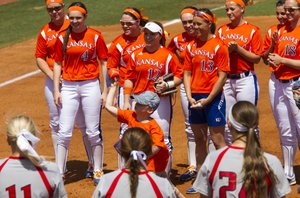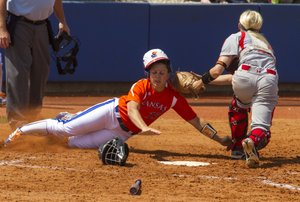 In the hours leading up to the Kansas University softball team's series finale with Texas Tech on Saturday, 6-year-old Cooper Smith Buske took the field at Arrocha Ballpark and threw strike after strike as he got ready.
Wearing orange, just like the Jayhawks and his mother, KU coach Megan Smith, Cooper came out prepared to fire the ceremonial first pitch of KU's "Jayhawks for a Cure" game.
They all donned orange, instead of white with crimson and blue, to honor those affected by kidney cancer. Paul Buske, Cooper's father and Smith's husband, died in June 2011, after battling the disease.
"We're a big family," Smith said following KU's 1-0 loss. "When I went through that and Cooper went through that, the girls went through it with me. We came out of it strong, but we still want to remember (Buske) and remember the fight that he had."
Cooper started the afternoon off right for KU by slinging a pitch over the plate while surrounded by the Jayhawks.
"I think he threw a really good pitch," Smith said, smiling. "I think it was a strike."
KU senior second baseman Ashley Newman said Cooper represented well for his dad. It was Cooper's second year in a row opening the "Jayhawks for a Cure" game with a toss, but that's not the only time he is around the Jayhawks. Newman said all the players, especially the veterans, know him well.
"You can actually hear him in the stands," she said, "screaming for all of us."
Junior starting pitcher Alicia Pille agreed and said she didn't need to give Cooper any advice before he pitched.
"He was so ready. He's adorable," Pille said. "It's just a touching moment. Everybody always tears up a little bit."
The Jayhawks, the pitcher added, appreciated the unique chance they had to honor their coach and her family.
"Most of us had met (Buske). It's just a good time to take a step back and remember that life is good, and we're here and you never know when it's gonna end," Pille shared. "So you just have to work hard and do all that you can every day."
Smith said the orange game served as an enjoyable way to remember her husband, especially considering the Jayhawks are like Cooper's older sisters.
"They love him, and it's fun to see them together," she said.
In the seven innings that followed, the Red Raiders, though limited by Pille to three hits, completed a sweep of the three-game series.
Cassie McClure's solo home run over the KU scoreboard in left-center field proved to be the only run, while KU's Newman, Nikki Bruce and Taylor McElhaney managed the only three hits against Tech pitcher Gretchen Aucoin (seven strikeouts).
A right-handed junior from Royse City, Texas, Pille threw eight innings Friday night against the Red Raiders and followed that up the next afternoon with seven more solid innings (seven strikeouts, three hits, three walks).
Said Newman: "Pille did a really good job, and I wish we could've done a few more things differently for her. But you've just gotta be proud of her. She's been pitching great recently, and that's all you can ask for her. The rest is in our hands."
The Jayhawks hit the road for a three-game series that begins Friday at Baylor.
Texas Tech 000 100 0 — 1 3 0
Kansas 000 000 0 — 0 3 0
W — Gretchen Aucoin, 12-7. L — Alicia Pille, 10-5.
2B — Sydnie Tapia, TT. HR — Cassie McClure, TT.
KU highlights — Pille, 7 IP, 3 H, 3 BB, 7 K; Ashley Newman, 1-for-2; Nikki Bruce, 1-for-2; Taylor McElhaney, 1-for-3.
More like this story on KUsports.com