Photo Gallery
Kansas Relays (Saturday)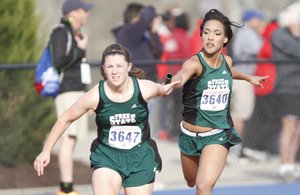 Images from high school and collegiate athletes from Saturday's events of the Kansas Relays.
Confident U.S. Olympic hurdles contender Michael Stigler didn't let 30 mph wind gusts bother him Saturday during his first-ever race at Rock Chalk Park.
The 5-foot-10 Kansas University junior from Canyon, Texas, charged through a stiff breeze on the straightaway and ran away from the pack with the wind at his back on the final stretch, winning the Kansas Relays 400 hurdles in 49.35 seconds.
It's the top clocking in the NCAA this outdoor season and fifth-best performance on the world charts.
"To be honest, I feel like it was bound to happen," said Stigler, who finished almost three seconds in front of Nebraska's Tibor Koroknai (52.09) and in doing so was named outstanding male performer of the Relays.
"It was a great race. I just ran my race," added Stigler, also a member of the winning 400 relay team (40.44) with Shawn Smith, Jaime Wilson and DeMario Johnson.
Stigler, who thrilled a crowd of 6,082 on a sunny 80-degree day, will be vying for his third straight Big 12 400 hurdles crown and first NCAA title later this spring.
The 2016 Rio Olympics are in his plans, especially after he barely missed making the U.S. team in 2012. He placed seventh in the 400 hurdles finals at the Olympic Trials.
Top three finishers advanced to the London Games.
"The thing with the 400 hurdles," Stigler said, "is you learn more about the race as you grow. An Olympic gold medal is in my future, I feel like."
Stigler, who finished second in the 400 hurdles at NCAAs last year in a KU-record time of 49.19, realizes the next step is to be No. 1 on the collegiate level.
"My mental preparation, everything's going to stay the same," Stigler said of his attitude in the future. "The Michael Stigler when I came into Kansas ... I'm going to be the same Michael Stigler leaving. I'm a humble guy, and I'm not scared to say it. I prepare and work hard. Everything that happens on the field is hard work. I work hard and thank my coach (Stanley Redwine) for that."
KU senior Diamond Dixon, who won a gold medal as a member of the U.S. 1,600 relay team in the 2012 Olympics, placed second in the 400 Saturday in a time of 54.07. Her former KU teammate, Paris Daniels, who was competing unattached and soon will sign a pro contract, crossed first in 53.66.
"She did a really good job today. She came here and executed like she was supposed to," Dixon said of Daniels.
"The wind is my kryptonite," Dixon added, smiling. "It does something to me. (But) I'm not going to blame it on the wind. Competitors behind me did what they had to do to catch me. That's all I can say for today," added Dixon, who also competed on KU's winning 400 relay team (45.23) with Zainab Sanni, Tianna Valentine and Sydney Conley.
"I was struggling with the wind on the 4x1," Dixon said. "I was like, 'Oh my goodness, this is rough.'"
Dixon, a Houston native who plans to return to the Olympics in 2016, admits it has been quite a transitional period since blasting onto the international scene.
"The pressure. It's like when he (public address) announced, 'National champion,'" Dixon said of introductions before Saturday's race. "You put the gold medal out there, I was like, 'Oh my gosh, I have to run an Olympic gold medal race.' I'm an introvert. It may not seem like it right now. It's kind of like my alter-ego. I have to be this person who talks after races. I have no problem with it. I'm getting better. It's hard. It puts a lot of pressure on me to not be somebody that I'm not."
Saturday's 400 winner, Daniels, also has designs on Rio in 2016.
"Get ready for me," she said with a smile.
She said she enjoyed competing on the fast track at Rock Chalk Park.
"The track seems really fast," Daniels said. "I love the surface. It's not like one of the hard tracks. I can't wait to run on it again. It's a world-class fast track. That's what I've heard from other people."
The women's meet MVP was Ally Watt of Pine Creek High in Colorado Springs. She won the 100 and anchored the winning 400 relay.
Champs: The KU team of Alisha Keys, Whitney Adams, Lindsay Vollmer and Rhavean King won the 1,600 relay in 3:40.76. Vollmer also won the 100 hurdles in 13.49 and King the 800 in 2:10.28. Adams was second to King in the 800 in 2:10.72. Hannah Richardson won the 1,500 in 4:29.68, edging teammate Natalie Becker (4:32.07). Valentine won the 100 in 11.33. Conley won the long jump in 21-4. Former KU runner Kyle Clemons won the 400 in 46.78.