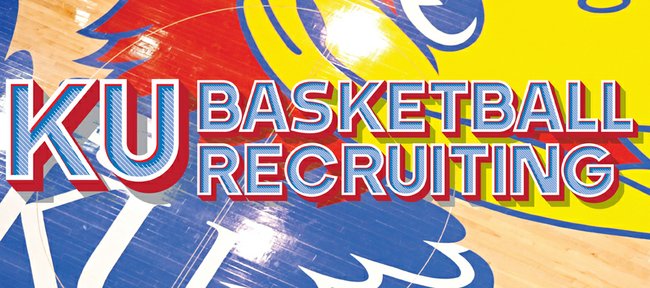 Myles Turner, who is ranked No. 6 in the recruiting Class of 2014 by Rivals.com, will announce his college choice on April 30 on ESPNU's Recruiting Nation show, the network announced Wednesday.
Turner, a 6-foot-11 center from Trinity High in Euless, Texas, has a final list of Kansas University, Texas, SMU, Duke, Ohio State, Oklahoma State and Texas A&M.;
He disputes that he has narrowed his choices to three.
"That's false," Turner told Zagsblog.com. "It's kind of cloudy. I have ideas here and there where I want to go, but it's not a straight shot. Just really where I'm feeling the most comfortable," he added. "That's really the biggest thing with me."
Turner, who is ranked second nationally by ESPN, will be competing in Friday's Jordan Brand Classic in New York and be a teammate of KU signee Cliff Alexander on the West team. KU signee Kelly Oubre is on the East.
Turner is questionable for Friday's game (6 p.m., ESPN2) because of an ankle injury.
"I'm not sure if I'll play yet, but hopefully I do," Turner told Zagsblog after watching practice in sweats at Basketball City in Manhattan. "Even if I don't play its just an honor to be a part of all this."
Asked about KU by Zagsblog.com, Turner said: "I like the high-low system that coach (Bill) Self runs, due to the fact that I can play both the high and the low in that system with Cliff (Alexander) and a couple of other bigs over there. That would be really cool to be a part of."
At this time, ESPNU listings indicate the April 30 show is slated to begin at 4 p.m. Eastern time, or 3 p.m. Central.
Battle on list: KU has started recruiting Tyus Battle, 6-5 sophomore shooting guard from Gill St. Bernards School in Gladstone, N.J., Zagsblog.com reports. Other schools on Battle's list: Ohio State, Virginia, UConn, Villanova, Michigan, Syracuse and Indiana. Battle is ranked No. 11 nationally in the Class of 2016.
Wake's KU reunion: Wake Forest coach Danny Manning on Wednesday announced the addition of KU grads Brett Ballard, Steve Woodberry and Justin Bauman to his staff. Woodberry and Ballard will be assistant coaches and Bauman director of basketball operations. The three worked for former KU All-American Manning the past two years at Tulsa.
"The four of us go back a good ways. They were all part of my staff at Tulsa, and they have an outstanding feel for the type of program we want to run. They will be valuable assets to our team, the university and the community," Manning said.
Woodberry, a 1994 KU grad, said: "I'm looking forward to the opportunity to compete in the best basketball conference in the country (ACC). We have a great challenge in front of us, but I'm certain we will be up to the task. Wake Forest has had success here before, and we are looking to build it back to where it was and where it can be."
Ballard, a 2003 KU grad, said: "I'm extremely excited to be here. It's humbling to be a part of this university and in a prestigious basketball conference. Wake Forest has a great basketball tradition. We are going to build on what has been done here in the past. I'm also excited to be working with coach Manning again. With his background, he is somebody who is a great mentor and role model not only for me but for our players."
More like this story on KUsports.com