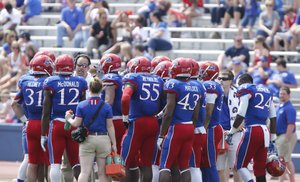 It was not just new faces in helmets and shoulder pads who made their presence felt during the Kansas University football team's recently completed spring session.
A handful of guys wearing headsets also were mixed into Charlie Weis' program for the first time.
While Saturday's spring game marked the end of spring ball for the players, the work of the coaches does not stop just because they no longer are allowed to work closely with their players.
Now the coaches turn their attention to working closely together.
"I think it's very important," offensive coordinator John Reagan said this spring. "When you're calling plays and doing things the way that we do 'em, there's gotta be a comfort level with everybody. It's taken some time. The coaches that were already here, they're learning a new system, too. So there's some of that, but also to get a feel for how I'm going to call things, what I'm going to call and how things fit together, that takes a little bit of time.
"But I really do feel very confident in the coaching staff that we have. I couldn't be more excited about it."
Reagan, the OC and offensive-line coach who came to KU for a second stint after spending the past four seasons at Rice, said it only made sense to expect the coaches to come together more quickly as a unit than the entire coaching staff and the 100-plus Jayhawks on the roster.
"There's no question," he said. "Our players are limited to 20 hours a week with us. They can do all the things they want to on their own, but they have so many unanswered questions that they can't answer, whereas we can spend as many hours a week working together as we want to, and do, so it's easier for that to happen."
Put more bluntly, "It's something we study non-stop," Reagan said. "It's what we get paid to do. So I think that does happen a little quicker."
Although the spring game was a good opportunity for the players to experience a game-like atmosphere, head coach Charlie Weis said it did not give the coaching staff quite the same feel for what things would be like on Saturdays this fall.
"You really don't know that until they're game-planning," Weis said of his assistant coaches. "When they hand you a game plan and you see how they're going to attack the people they're going against, and then you ask, 'Well, why would you do this, why would you do that?'"
Joining Reagan as first-time members of Weis' staff at Kansas this spring were wide-receivers coach and former Washington offensive coordinator Eric Kiesau; assistant director of football operations Ryan Cantrell, who played at KU from 2005-08 and worked under Reagan at Rice; and quality-control coach Bernie Parmalee, the father of KU receiver Tre' Parmalee who worked under Weis at Notre Dame and with the Kansas City Chiefs and also played for Weis with the New York Jets in 1999.
"I drive him nuts, and he drives me nuts," Weis said of Parmalee. "I've known Bernie for a long, long time, and it's nice to have him around, a veteran guy with his presence and his demeanor. He's been there, done that as a player and a coach in both college and the pros. Not only that, he's a really good person. He's a very, very positive role model."