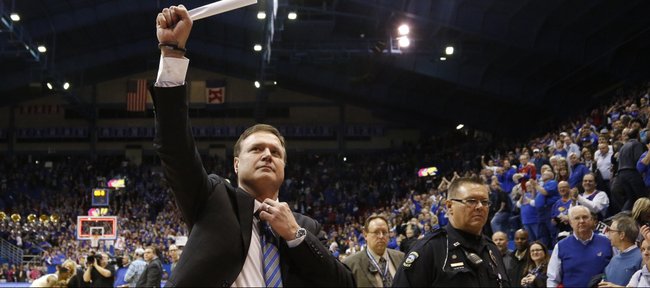 Kansas University's Bill Self on Monday received the Wayman Tisdale Humanitarian Award at the Devon Energy College Basketball Awards in Oklahoma City.
The award, produced by Access Sports in conjunction with the U.S. Basketball Writers Association, honors "an individual involved in college basketball who has had a significant positive impact off the court as well as on."
Previous honorees include Duke coach Mike Krzyzewski, Michigan State's Tom Izzo and ESPN's Dick Vitale.
The award's namesake, former University of Oklahoma standout Wayman Tisdale, died in May 2009 after a battle with cancer. Self, who was a high school standout in Edmond, Okla., played on the same AAU basketball team as Tisdale, a phenom from Tulsa.
"I'm overwhelmed and humbled to have a chance to receive an award with his name on it, especially since I knew him growing up," said Self, who like Tisdale was a member of the Oklahoma Rams AAU program. "Wayman Tisdale basically put Oklahoma basketball on the map. He created an interest level that spurred a lot of interest in a lot of good (high school, AAU) players that have come out of Oklahoma. I don't think there's anybody more contagious — his enthusiasm and energy — than what I saw with him. He was one-of-a-kind."
Other Oklahoma Rams alumni include Prince Bridges, Leroy Combs, Richard Dumas, Byron Houston, Darryl (Choo) Kennedy, Stacey King, Tracy Moore and Mark and Brent Price.
"My first trip with Wayman ... we had 15 people on a 15-passenger van, which doesn't seem like it would be that crowded except we were going from Oklahoma City to Las Vegas, and a 26-hour van trip didn't really bode well," Self recalled. "But I just remember this big ol' dude, because there was nowhere for him to put his legs. He had to drape his legs over my shoulder, and I'm in the seat in front of him, and I'm saying, 'Who is this dude?'
"That first game that we played, I had 26 points, he had two, and I'm thinking, 'I'm going to start getting recruited.' Not one coach spoke to me, and Wayman had a wedding-reception line waiting to say, 'Hey, great game, Wayman.' I knew then what the difference was between potential and actually having one decent game against bad competition," Self added, laughing.
Self said the 6-foot-9 Tisdale, who was three-time Big Eight Conference player of the year and three-time first-team All-American, "was a special guy. Nobody lit up a room more than him. He changed the mood of a building, let alone a room. I mean, he probably had as much personality and as much charisma as anybody that I've been around, period, and certainly did more for our sport where I'm from than anybody ever has. And even people that met him later on in life when he was doing his music (he recorded eight albums), they all felt the same way."
Self was honored Monday for his work with his own Assists Foundation, as well as work with Coaches Vs. Cancer and the V Foundation for Cancer Research.
"When you look at Bill Self's record on the court and combine that with what he does off the court in the community and with his players, you see the very essence of what the Wayman Tisdale Humanitarian Award stands for," said David Gillikin, Chairman of the Devon Energy College Basketball Awards. "We are very pleased to be able to recognize coach Self and his accomplishments with this prestigious award."
Wichita State's Gregg Marshall received the Coach of the Year Award Monday and Creighton's Doug McDermott player of the year. Duke's Jabari Parker was top freshman.
This, that: KU's annual basketball banquet is set for tonight at the Holidome. It is sold out. ... ESPN's Joe Lunardi has put out his first Bracketology for the 2014-15 season. KU is listed as No. 1 seed in the South Regional. He has KU playing Wofford in the first game and the winner of Oregon-New Mexico in the Round of 32 in Omaha, Neb. Wisconsin, Arizona and Michigan are his other No. 1 seeds at this early date.
Jabari to decide: Duke's Jabari Parker told the Associated Press before Monday's dinner in OKC that he will meet with Duke coach Mike Krzyzewski today, then announce on Wednesday whether he will enter the 2014 NBA Draft or return to college.
"I hope that Coach K's meeting goes better than my meeting went with Joel and Ben," Self said of KU one-and-dones Joel Embiid and Ben McLemore. "(Andrew) Wiggins, we knew he was gone before we even got him," Self added.
"Jabari, I had a chance to recruit him and he's obviously a special talent and great human being. But the way it's set up, it makes it very difficult for these kids to come back. He'll make a great decision whatever it is.''
More like this story on KUsports.com