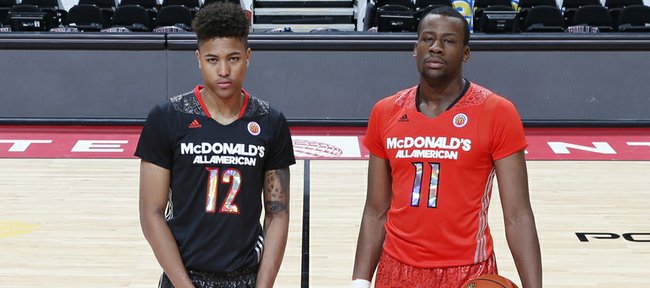 Kansas University basketball signee Kelly Oubre scored 14 points, grabbed five rebounds and dished three assists in the United States Junior National Select Team's 84-73 victory over an international 19-and-under squad at Saturday's Nike Hoops Summit in Portland, Ore.
Oubre, a senior shooting guard from Findlay Prep High in Henderson, Nev., hit five of 11 shots and was 2-of-7 from three-point range.
KU signee Cliff Alexander, a center from Chicago's Curie High, scored six points off 2-of-7 shooting with two rebounds and a block as the U.S. snapped a two-year losing streak.
Future Duke players Justise Winslow and Jahlil Okafor had 16 and 14 points respectively. Okafor had 10 rebounds and Winslow six. Future Duke guard Tyus Jones had 10 of his 13 points in the fourth quarter. He had six assists and five steals, no turnovers.
The international team was led by future SMU point guard Emmanuel Mudiay, who had 20 points and three assists.
Oubre measured 6-foot-6 1/2 (in shoes) and 204 pounds on Saturday. His wingspan is 7-foot-2 and reach is 8-8.
Alexander measured 6-8 (in shoes) and 251 pounds. He has a wingspan of 7-3 1/2 and reach of 9-0.
Uncommitted Myles Turner, a center from Trinity High in Euless, Texas, scored two points and grabbed three rebounds. He injured his ankle in the second half and sat out the final minutes icing his ankle on the bench.
Turner reported on Twitter that he's been diagnosed with a "mild sprain."
As far as Oubre's performance. ...
"Kelly Oubre made his presence felt using his athleticism and shooting ability to pour in 14 points," wrote Matt Kamalsky of DraftExpress.com. "While Oubre's shot selection and shooting consistency leave something to be desired, he knocked down two of his seven attempts from beyond the arc and made the most of every opportunity to get to the rim. He may not be the same caliber of prospect as Andrew Wiggins is, but he can make an instant impact next season for the Jayhawks."
Adam Zagoria of zagsblog.com assessed: "Kelly Oubre and Cliff Alexander are both strong, tough, competitive guys who will go a long way toward helping to replace Andrew Wiggins and Joel Embiid at Kansas. If they get Myles Turner, too, look out."
Wiggins attends Raptors game, picks agent: KU freshman Andrew Wiggins and his brother, Nick, had courtside seats for the Toronto Raptors' game against New York on Friday in Toronto, the Toronto Sun reports. The paper reports that Wiggins has selected Bill Duffy as his agent and has started preparing for the draft workout process. Duffy represents Canadian sensation Steve Nash, the paper said. KU coach Bill Self said recently Wiggins would "fulfill his academic obligations" the rest of the semester.
"He's right on track academically," Self said. "We've had a perfect APR for seven years in a row. He knows he has to finish in order for us to (continue that). There's no question (he will)."
More like this story on KUsports.com