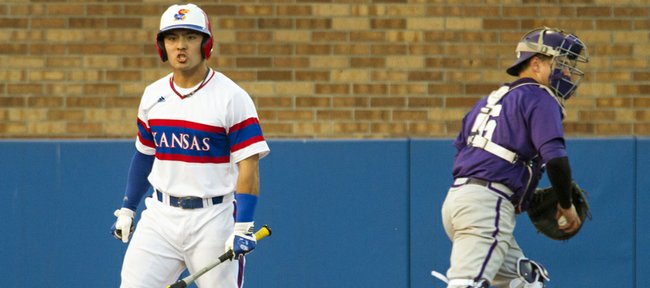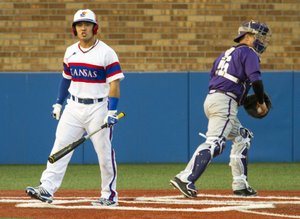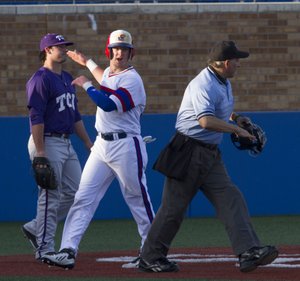 If someone had asked Kansas University baseball coach Ritch Price beforehand how his team's Friday night home game against TCU would go, he would have banked on a low-scoring affair featuring plenty of pitching and defense.
Instead, the two Big 12 programs that had suffered through their shares of offensive struggles early in their conference slates, combined for 23 hits in the Horned Frogs' 5-2 victory at Hoglund Ballpark.
"There were no cheap ones (hits)," Price said after two Horned Frogs — junior Kevin Cron and sophomore Boomer White — combined for three long balls and plated every run in sending KU and starting pitcher Jordan Piché to the Jayhawks' third straight loss.
"All three of those were hit right on the button. They're good players (White and Cron). They're two of the best players in our league. Their 3 and 4 guys clutched up for them, and that's the difference in the ball game. I liked the way we played. I like the way we competed and swung the bats against quality arms. We've just got to bounce back (today)."
After KU took a 2-0 lead in the bottom of the second with RBI singles from senior Ka'ina Eldredge and sophomore Colby Wright, Cron knocked out a two-run homer in the top of the fourth. Two innings later, White and Cron — who combined to go 4-for-9 — smacked back-to-back solo home runs off of Piché.
"I couldn't have felt better," said (4-4) Piché, who allowed seven earned runs on eight hits in five innings of his first start a week ago at Kansas State. He went six innings Friday versus (21-12, 6-4) TCU, allowing four runs off 10 hits.
"I went out there, threw the ball and commanded it really well. … Those homers, I felt like we made good pitches on them, too, and they were just sitting that pitch. They're good hitters. So you mess up a little bit, they're gonna tag you for it."
The series will continue at 3 p.m. today.
TCU 000 202 001 — 5 14 0
Kansas 020 000 000 — 2 9 0
W — Brandon Finnegan, 6-2. L — Jordan Piché, 4-4. SV — Riley Ferrell, 5.
2B — Connor McKay, Dakota Smith, KU. HR — Kevin Cron (2), Boomer White, TCU.
KU highlights — Ka'iana Eldredge, 2-for-4, RBI; Colby Wright, 1-for-3, RBI; Blair Beck, 1-for-4, R.
More like this story on KUsports.com