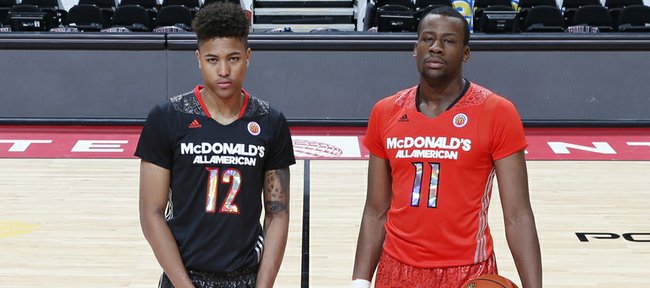 The United States Junior National Select Basketball Team will try to snap a two-year losing streak against a collection of international high school players 19 and under during tonight's Nike Hoops Summit, set for a 6 p.m. tip on ESPN2, in Portland, Ore.
"Everybody knows that we have to come out here and win Saturday," KU signee Cliff Alexander told USAbasketball.com.
Alexander, a 6-foot-9, 230-pound center from Chicago's Curie High, will be joined on the U.S. roster by KU signee Kelly Oubre Jr., a 6-7 wing from Findlay Prep in Henderson, Nev.
Other U.S. team members: uncommitted KU recruit Myles Turner, plus Joel Berry II and Theo Pinson (North Carolina), Jahlil Okafor, Justise Winslow and Tyus Jones (Duke), James Blackmon Jr. (Indiana), Stanley Johnson (Arizona) and Reid Travis (Stanford).
This marks Alexander's second go-around with USA Basketball.
He played for the organization's Under 18 age group 3X3 team at the world championships last summer in Jakarta, Indonesia. Alexander, Larry Austin, Dominique Collier and DeMonte Flannigan fell to Lithuania in the Round of 16 and finished with a 7-1 record.
"It was a great experience," Alexander told USAbasketball.com. "When we first got our jerseys, we were in Washington, D.C. We all were excited and proud. We put on a clinic (going 5-0 at the zone qualifier).
"Everybody in Indonesia had us to win," Alexander added. "We got a lot of support in Indonesia. We were the show to watch. Everybody wanted to see the USA play."
Alexander, who along with Oubre played in the recent McDonald's All-America game in Chicago, said he has enjoyed practicing with the U.S. high school stars since Thursday. The U.S. is trying to improve on an 11-5 record in this event.
"Practice has been good. Everybody has been competing every time we step on the court, during the drills and everything. For me, I know I just need to do the stuff I usually do — rebounding and trying to block shots," Alexander said.
Of his own game, he said: "I love dunking on people. It just makes me want to go hard every time I step on the court."
Alexander impressed draftexpress.com at practice this week. "Alexander made his presence felt with a pair of big dunks and a couple finishes inside," the website wrote.
Alexander and Oubre will next play in the Jordan Brand Classic on April 18 in Brooklyn, N.Y.
Phillip on radar: KU coaches this week traveled to Independence Community College to watch Tarik Phillip, a 6-foot-3 red-shirt freshman point guard who was MVP of the Jayhawk Conference last season.
Phillip, who is visiting West Virginia this weekend according to WVSports.com and West Virginia Metro News (wvmetronews.com), averaged 18.7 points, 6.7 rebounds and 4.7 assists last season. Phillip — he hit 55 percent of his floor shots including 38 percent from three — orally committed to South Carolina in 2012 but failed to qualify academically. After sitting out his senior year at Brooklyn (N.Y.) Academy, Phillips averaged 26 points and seven assists a game his postgraduate season at Queen City Prep in Charlotte, N.C.
"He's a point guard and a two-guard — he's just a 'guard.' He can play the one, two or three. He's about, 'Let's do whatever we can to win games and compete for a national championship.' That's the kind of kid he is," Independence coach Tony Turner told Metro News. "He's got two big dogs in the Big 12 recruiting him, and he's just looking for the right fit.
"He can get to the rack … but you can't label him as a kid who couldn't shoot, because if you sag off of him he'll make the jumper," Turner added. "He could score from wherever you needed him to score. He's just a very coachable kid and I think teams will see how much he affects the game."
Graham update: Devonte Graham, a 6-2 senior guard from Brewster Academy in New Hampshire, on Friday cut Missouri, Rutgers, Clemson and Georgia Tech from his list. The former Appalachian State signee, who has been released from his letter of intent, is considering KU, Florida, North Carolina State, Virginia, Nebraska, Providence, Cincinnati, Virginia Tech, and others.
Top player is 16: According to oregonlive.com, the youngest player in tonight's Hoop Summit is 16-year-old Sviatoslav Mykhailiuk, a 6-5 shooting guard who plays pro basketball in Ukraine. Other top international players: SMU signee Emmanuel Mudiay and Kentucky signees Karl Towns Jr. and Trey Lyles.