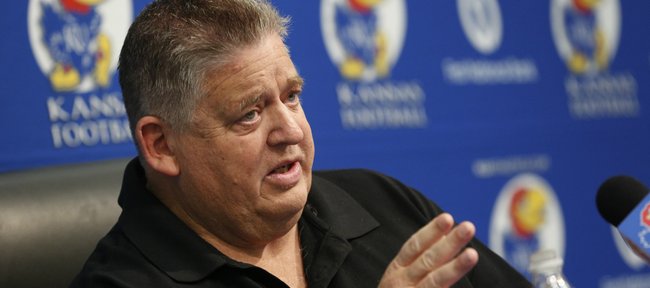 When Kansas University's football team takes the field at 1 p.m. today at Memorial Stadium for the annual spring game, it will do so with a handful of instructions from coach Charlie Weis and his coaching staff.
While executing John Reagan's new offense, making the right reads on defense and showing off the influx of speed and talent that has the Jayhawks hoping for their best season in years all will be important, Weis is putting one aspect of the afternoon above all others.
"First of all, I would like the fans to have some fun," Weis said. "And the way I've laid this out now, come halftime, the game will get very interesting."
Although he did not expand on the wrinkle that he hopes will make the game more competitive and more entertaining, Weis said it was put in to create a scene as close to game day as possible. Just like during the season, today's game will feature four 15-minute quarters — a running clock will be used except for timeouts and the final two minutes of each half — and will provide KU's current first-stringers with an opportunity to show how they play together and a challenge to show how they play when adversity strikes.
"I would like to be in the second half with guys feeling some pressure to try to win a game, even though it's just a spring game," Weis said. "At the same time, I would like the players to have some fun."
By all accounts, that is exactly what the spring has been thus far. While practices and weight-lifting sessions have produced the normal amount of fatigue, the presence of a new offense and the arrival of a couple of new coaches and a handful of new players have given everyone on the roster a boost. The KU offense is eager to prove it is better than the statistics from the last two seasons show. And the Kansas defense is moving forward while eyeing another leap, even going as far as to set the goal of becoming the best defense in the Big 12.
Naturally, Weis will be looking at those aspects of today's action, too.
"I would like to see the offense show efficiency," Weis said, "because the operation on offense is the newest thing we have here.
"I would like to see good execution. I don't want to turn the ball over on offense. I want to get turnovers on defense. That's what the head coach is supposed to root for, right? Well, whenever there's a turnover, there's something good and something bad that happens on each play."
While the game figures to be important for the Jayhawks in many areas — quarterback, offensive line, wide receiver and running back have ongoing battles — the format also will give a bunch of second- and third-string guys an opportunity to turn heads.
"Several players are going to play a lot more snaps than they've seen the whole spring," Weis said. "It gives them an opportunity. ... Let's see what we got."
Weis is a realist. And because of the way the past couple of years have gone, he understands that in order for onlookers to believe things will be different this year, they first have to see it for themselves. That's at least part of the goal for today's spring game and, from listening to him talk about it, you can't help but get the feeling that Weis is pretty excited about revealing his third Kansas team to the public.
"Not that we're loaded with talent, stacked and racked at every position," he forewarned. "But I think the infrastructure has been rebuilt with a predominantly junior and senior team. And usually (those are) the teams that win."