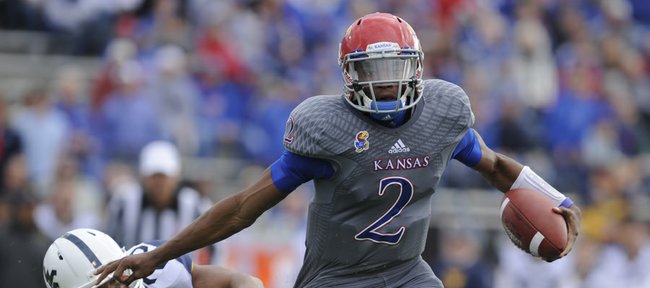 Charlie Weis hinted Tuesday that the goal for his third Kansas University football team equals the win total of the last three seasons combined (six).
That might sound unrealistic, but if one player with exciting raw talent develops at a far faster pace than anyone has a right to expect, six is not only a reasonable goal, but as good a place as any to set the over-under bar.
Another way of putting it: If Montell Cozart pulls a Joel Embiid and improves way ahead of schedule, KU could attain bowl-eligibility for the first time since the 2008 regular season.
That's not to say Cozart ever becomes the first pick in the NFL Draft, as Embiid almost certainly will be in this summer's NBA Draft. It just means if Cozart can become the most improved passer in the Big 12, he can completely change the stress level for defenses facing KU.
Cozart moves his long legs so swiftly and changes directions in such seamless fashion that, at the very least, the threat of him running can paralyze a defense. Once he takes off, he can send the defense into all-out panic mode.
In the college game, a serious running threat at QB equates to a point guard who consistently gets to the paint, keeping the defense in retreat-and-scramble mode.
Rare is the true freshman quarterback who can compete efficiently in the Big 12, so drawing definitive conclusions from Cozart's unusually poor 2013 passing numbers (23-for-63, 227 yards, no touchdowns, two interceptions) makes little sense.
Think of all the factors that conspired against him: reading sophisticated Big 12 defenses loaded with faster, bigger players than he faced in high school; trying to grasp Weis' complicated offense; burdened by receivers who had trouble getting and catching the ball.
True, many of Cozart's passes were overthrown by such a great distance a cheetah could not have caught up to them, much less a Jayhawk. In part, that seemed a result of him trying too hard to avoid interceptions. Too often on runs, particularly late in the season, he seemed more eager to reach the sideline than the first-down marker. He might have been too mindful of trying to avoid injury.
Those game experiences make Cozart more prepared for college football, a game at which it's difficult to succeed without showing a willingness to take risks to earn rewards. There is a time to throw it away, a time to step out of bounds. Now Cozart has a better feel for when that is and isn't.
Weis said his five quarterbacks compete at three tiers and called the competition between Heaps and Cozart for the starting job, "too close to call."
Weis grouped junior Michael Cummings and UCLA transfer T.J. Millweard in Tier II and red-shirt freshman Jordan Darling by himself in Tier III.
Weis is no hurry to name a starter.
"The good part about that is you're going to get ready to play us, the longer we go without saying who the quarterback is, the better it is," Weis said, meaning the opponent has to prepare for both Heaps and Cozart. Smart move.
For the first time in his college coaching career, Weis won't put red jerseys on the quarterbacks in the spring game, meaning they are fair game to get rocked. Love that. The only way to judge a quarterback is to see how he performs when the script goes up in flames and it's up to him to make a play and/or keep the defense from making one.
Making the quarterbacks live makes Saturday's spring game, scheduled to kick off at 1 p.m., worth attending.
"He's throwing the ball pretty well in the spring," Weis said of Cozart. "He's completing about 75 percent of his passes in the spring. He can make all the throws. He's done a better job of reading coverages. One thing he brings to the table is his feet. You have to be worrying about his feet on every play, not only his arm. He has a chance to be a really, really good player."
He didn't say when. He doesn't need to yet. All he needs to do is dangle the starting carrot in front of Cozart and see how high the Bishop Miege graduate can jump to reach it. Embiid wasn't a very good player at Late Night. Now look at him, plastered all over ESPN this afternoon.
More like this story on KUsports.com