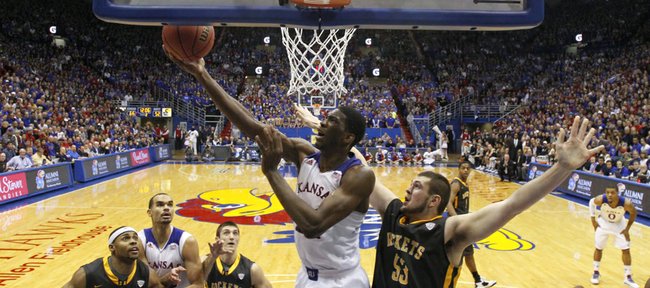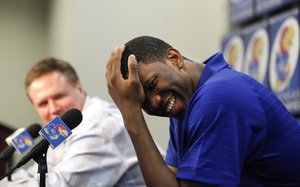 Podcast episode
After Kansas University freshman center Joel Embiid announced he was entering the NBA Draft, KU coach Bill Self said it was a difficult decision for the 7-footer because he "loves it here," but Embiid made the right choice as he is "guaranteed" to be one of the top five picks.
Reader poll
Joel Embiid, Kansas

63%

1368 votes

Dante Exum, Australia

1%

23 votes

Jabari Parker, Duke

8%

181 votes

Julius Randle, Kentucky

4%

104 votes

Andrew Wiggins, Kansas

20%

431 votes

Other

1%

39 votes
2146 total votes.
Every time I hear someone say that Joel Embiid will be a top-five pick in the next NBA Draft, I wonder if I have missed something.
Is Embiid actually 28, and has he been playing basketball all his life? That's the only plausible explanation for any mystery regarding his draft projection. Top five? Top one. Period.
He's 7-feet tall, started playing organized basketball a few years ago and has such amazing mental and physical agility that he could pass for a guard who shot Nerf hoops from the moment he was placed in his crib.
He has the perfect frame for adding the pounds and strength he'll need to trade elbows with the double-wide trailers camped under the hoop. He already has the footwork to get around them. Embiid has a naturally soft touch, blocks shots and is extremely bright.
If he's not ready to contribute in a big way right off the bat, all the better. The team that drafts him can pick up another lottery pick next season and a few years after that be ready to crash the party reserved for elite teams.
Embiid was a part-of-one-and-done college basketball player, but moved so gracefully and played so skillfully that he'll be remembered more vividly than most four-year players.
A native of Cameroon, Africa, Embiid likely will be joined in the top five by a Canadian (KU teammate Andrew Wiggins), an Australian (Dante Exum) and two Americans (Jabari Parker and Julius Randle).
Exum is a 6-6 combo guard whose father, Cecil Exum, played with Michael Jordan and James Worthy at North Carolina and played professionally in Australia.
As for the top three recruits from the Class of 2013, I'd take Wiggins, then fellow small forward Parker, then Randle, a power forward already carrying an NBA body.
Wiggins played on the wing for KU and had little trouble blowing by serious athletes. Parker often was defended by slower players in the post. Wiggins has more untapped potential and figures to fill out physically more than either Parker or Randle.
More like this story on KUsports.com