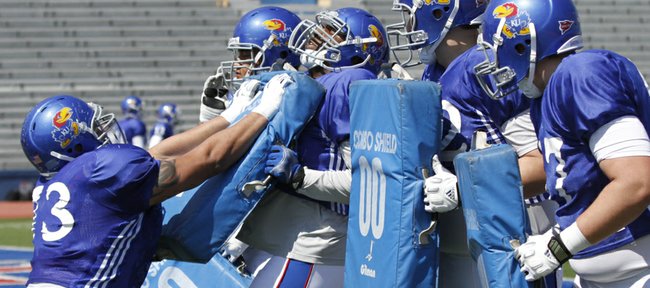 Building chemistry is an important and ongoing exercise for any offensive line, and already this spring, Kansas University's group is feeding off its rapport with first-year position coach John Reagan.
"He doesn't really judge anybody," senior guard Mike Smithburg said of Reagan, who is also KU's offensive coordinator. "Whoever's playing best gets the opportunities."
Since he was hired away from Rice in December, Reagan has said he would give his new line a clean slate. So far, Smithburg said, that's exactly the way things have gone down, with battles for first- and second-string spots unfolding daily at all five O-line positions.
"He understands, person to person, what we're capable of, and he just coaches off that," Smithburg said. "He just wants to get the best out of us."
With just 11 offensive linemen listed on KU's spring roster, getting repetitions has been easy. Making the most of them is a different story. But with the entire group learning a new offense, Smithburg said starting on the same page created quite a bond.
"It takes awhile for an individual group to build," he said. "And this group's been building a lot this semester. It's obviously really important, and we've made it a point and been doing a lot of stuff outside of here."
Eating together as a unit on Saturdays, mass text messages about sports or funny topics and, of course, extra time going over the new playbook have brought these guys closer together. Now that they've had a few weeks to work with Reagan, Smithburg said he and the rest of KU's offensive linemen settled nicely into the new routine.
"With a coach, you're not gonna be around them as much at workouts and stuff," Smithburg said. "You kind of get the feel for 'em right away, and they're not gonna change much after that."
What, then, is the one area that Reagan seems to handle the best?
"He's definitely a very good teacher of the game," Smithburg said.
WR coach fitting in
New wide-receivers coach Eric Kiesau also appears to be making a strong impression on his group this spring.
Senior transfer Nick Harwell said recently that he was very impressed by the way Kiesau handles his business.
"He's a very positive guy," Harwell said of the former Washington offensive coordinator. "And he gets us ready for practice outside of just the physical aspect."
The Jayhawks have two practices remaining (today and Thursday) before they wrap up spring ball with the annual spring game, set for 1 p.m. Saturday at Memorial Stadium.
More like this story on KUsports.com