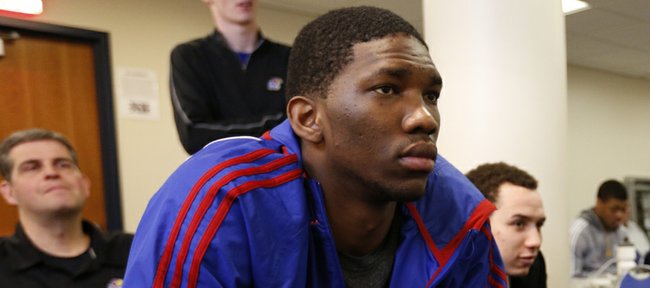 Kansas University freshman center Joel Embiid will announce his future plans today at a 2 p.m. news conference in Allen Fieldhouse, coach Bill Self said Tuesday night.
Sources close to the situation told the Journal-World that, barring some late change of heart, the 7-footer from Cameroon is expected to declare for the 2014 NBA Draft. Other news organizations have heard the same thing. Racine, Wis., columnist Gery Woelfel reported on Twitter that super agent Arn Tellem is expected to represent Embiid as well as some other top prospects.
Zagsblog.com has multiple sources stating Embiid is headed to the NBA and quotes an anonymous NBA source as saying, "He's coming out (for draft). Shouldn't be a surprise. He's a lock for the top five."
Embiid, who averaged 11.2 points and 8.1 rebounds in 28 games this past season for 25-10 KU, is expected to be taken in the top three of the June draft, one NBA official told the Journal-World on Tuesday. The official said KU's Andrew Wiggins is currently slated to be picked No. 1, followed Duke's Jabari Parker and Embiid.
Yahoo! Sports NBA writer Adrian Wojnarowski reported on March 27 that sources indicated Embiid would be entering his name in the 2014 Draft. Four days later, Self said Embiid had not made up his mind. Wojnarowski, who has an excellent track record with NBA scoops, has not backed off his story and nothing has changed to indicate Embiid may return.
One elite high school big man prospect remains available in recruiting. Myles Turner, 6-11 senior from Trinity High in Euless, Texas, is considering KU, Texas, Oklahoma State and others. Rivals.com's No. 6-rated player said he hopes to announce a decision date shortly after the Jordan Brand Classic on April 18 in Brooklyn, N.Y.
Today's news conference is closed to the public.
Thompson tweets three: Virginia Tech transfer Trevor Thompson tweeted that he has a top three of Indiana, Ohio State, and Purdue. The 6-foot-11 Thompson, who averaged 5.0 points and 4.7 rebounds as a freshman, was said to have had some interest in KU.
Brewster guard on KU radar: Rivals.com reports that KU coach Self will head to Brewster Academy in Wolfeboro, N.H., on Friday to watch point guard Devonte Graham, a 6-2 senior who is trying to get out of his letter-of-intent with Appalachian State. No coach can speak with Graham until he is released from his letter, but coaches can watch him play. Reports indicate new Appy State coach Jim Fox will make the call on whether the school issues a release to Graham. Currently unranked, Graham will wind up in Rivals.com's top 150, analyst Eric Bossi reports.
Tulsa talk: KU assistant Norm Roberts has been mentioned as a possible candidate for the head coach opening at Tulsa, according to CBSsports.com. Former K-State player Brad Underwood, head coach at Stephen F. Austin, also is on the CBS list. The Tulsa World reports that the three names most mentioned are Underwood, Mercer head coach Bob Hoffman and Southern Miss head coach Donnie Tyndall.