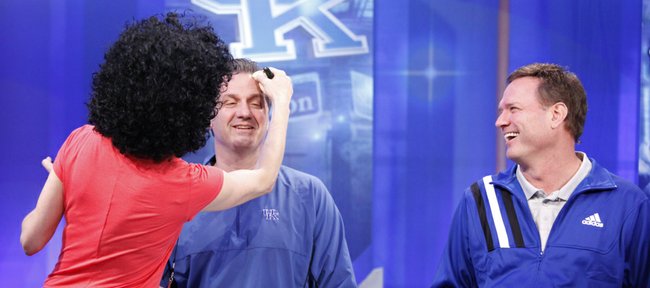 Kansas University has played NCAA Tournament finalist Kentucky 27 times and Connecticut twice.
The Jayhawks are 2-0 versus UConn. KU defeated the Huskies in 1995 in Kemper Arena in Kansas City, Mo., and in 1998 in Hartford.
Kentucky holds a 21-6 record versus KU. The Jayhawks, however, have won three of the past five meetings. Kentucky won the last matchup, 67-59, in the 2012 NCAA title game in New Orleans.
Ties to Larry: Former KU coach Larry Brown, who just completed his second season at SMU, has served as a mentor for the head coaches in tonight's NCAA title game.
UConn's Kevin Ollie played for Brown with the Philadelphia 76ers. Kentucky's John Calipari worked for Brown at Kansas and with the Sixers.
"The only text I got (after NCAA semifinal win over Florida) was from coach Brown, just saying congratulations and have fun with it," Ollie told Fox Sports Southwest. "I love him to death. I had an opportunity to talk to him this morning and he just gave me some sound advice: Have fun, don't make it complicated."
Ollie might not be in the Final Four if not for Brown, who told Ollie to accept Jim Calhoun's offer to join Calhoun's UConn staff in 2010. "If it wasn't for Larry telling me to take this job, I don't know if would have," Ollie told the Dallas Morning News. "I wanted to get an unbiased opinion, and I went to Larry. And Larry said, 'I'm going to hang up the phone on you if you don't go back to UConn. I thought you were smarter than that.' That's his exact words."
Calipari has long made known his admiration for Brown, who led KU to the 1988 national title.
"It was funny, because you end up dressing like him, walking like him. Now I'm having to have my hips replaced like him," Calipari said.
On a serious note ... "I just learned so much from him," Calipari said. "He's been special to me. He's a mentor, a friend, and obviously now we're all seeing he hasn't lost it as a coach."
Brown led his second SMU team to a 27-10 record, one short of a school record for victories. The Mustangs reached the finals of the NIT, losing to Minnesota.
Brown praised Calipari for keeping his team together after the country's preseason No. 1 team dropped out of the rankings.
"You know, everybody expected them to be 40-0," Brown told the Dallas Morning News, "and here they are. … I think most people expected them to be there, but he's done a terrific job of picking them up, and those kids have responded."
Of Ollie, Brown said: "I've had a lot of great kids play for me. He's somebody that's special. Everybody loved him. He was respectful, made his teammates better, and it's just carried over. Everything good in our sport is what Kevin Ollie is about, and I'm proud of him."
Danny ball: New Wake Forest coach Danny Manning described his vision of Demon Deacon basketball to the Winston Salem-Journal.
"I want our teams to be physically and mentally tough. We pay strict attention to detail. We think next play and we are constantly in a state of becoming or learning. That is our mission statement," former KU All-American Manning said. "That is who I want us to be. And that's who we are going to be."
Of the challenge that awaits, he said: "I understand that everyone's not going to be happy, everyone's not going to be pleased with any decision that anybody makes that affects so many people. But I'm looking forward to getting down there and putting my stamp on Wake Forest basketball and getting Wake Forest basketball back to where it belongs."
Wake went 51-76 the last four years under coach Jeff Bzdelik, who resigned March 20. Manning will be formally introduced at a news conference this week in Winston-Salem, N.C.
More like this story on KUsports.com