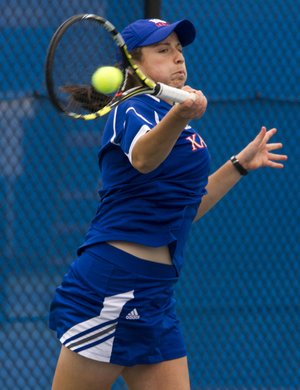 Freshman Morgan Barnhill earned the only victory for Kansas University in its 6-1 Senior Day tennis loss to No. 25 Texas on Sunday at Jayhawk Tennis Center.
Barnhill beat Lina Padegimaite, 2-6, 6-2, 1-0 (10-7) at No. 6 singles for Kansas' lone win.
Texas (10-9 overall, 3-3 Big 12) swept the doubles matches and won the Nos. 1-5 singles matches in straight sets.
It was the final home match for KU seniors Claire Dreyer, Paulina Los and Dylan Windom, who were recognized after the Jayhawks fell to 11-8, 2-4.
Kansas will travel Friday to Texas and Sunday to Texas Christian, then conclude the regular season April 19 at Kansas State.
Texas 6, Kansas 1
Singles
No. 18 Breaunna Addison (UT) def. Dylan Windom (KU) 6-1, 6-0
No. 112 Elizabeth Begley (UT) def. Maria Jose Cardona (KU) 6-1, 6-2
No. 86 Ratnika Batra (UT) def. Maria Belen Ludueña (KU) 6-1, 6-2
Neda Koprcina (UT) def. Paulina Los (KU) 6-2, 6-2
Pippa Horn (UT) def. Anastasija Trubica (KU) 6-3, 6-4
Morgan Barnhill (KU) def. Lina Padegimaite (UT) 2-6, 6-2, 1-0 (10-7)
Doubles
Breaunna Addison/Elizabeth Begley (UT) def. Maria Jose Cardona/Maria Belen Ludueña(KU) 8-1
Ratnika Batra/Neda Koprcina (UT) def. Dylan Windom/Paulina Los (KU) 8-6
Pippa Horn/Juliana Gajic (UT) def. Caroline Henderson/Morgan Barnhill (KU) 8-5
More like this story on KUsports.com